United MileagePlus Overview
PointsCrowd is a community-supported platform. When you apply for a credit card, make an order, or otherwise interact with the advertisers through the links on this page we may earn an affiliate commission. This helps us maintain and develop the platform further at no cost to you.
Looking for ways to travel more or get the most out of your trip? Travel is now just a click away for members of the United MileagePlus program who have access to amazing travel offers. United miles and points earned through the program can be applied to the vacation of your dreams, upgrading your current travel plans, or used in your favorite stores for discounts.
The United MileagePlus program is the airline miles program from United. But what makes this program unique compared to other airlines? This overview guide will give you the basics about the United MileagePlus program, how to earn United miles and points, and how you can start using United Rewards to book your next trip.
What is the United MileagePlus Program?
United is one of the world's leading travel companies. With global partnerships for flights, hotels, rentals, dining, shopping, and more, United MileagePlus members can now make the most of their travels!
United MileagePlus is a miles points program from United. Members can earn points to later apply towards United Rewards. This program also gives members access to exclusive offers and travel perks through United and its partnering companies.
There are several ways to earn and use your United Miles points to take advantage of the program.
How to Earn United Miles
Start taking advantage of the United MileagePlus program by first getting signed up and then earning United Miles. The more miles you accumulate, the more offers you can take advantage of when traveling with United and its partners. Luckily, United provides several ways to earn United Miles.
Fly with United
United Airlines rewards its loyal customers by giving United Miles for each flight you take on the airline and its partnering Star Alliance members, like Lufthansa and Singapore Airlines.
Credit card sign-up bonuses
One of the easiest ways to get a jumpstart on your United Miles balance, sign up for qualifying credit cards that give signing bonuses of up to 100,000 miles.
Using your MileagePlus Number when traveling
Your United MileagePlus number comes in handy when making reservations for your entire trip. You can earn miles by booking flights on United and their hotel, car rental, and other service partners. For example, booking hotel reservations with Marriott can earn up to 40,000, planning a holiday cruise can earn up to 45,000, and renting cars through Budget can add a ton of United miles to your account.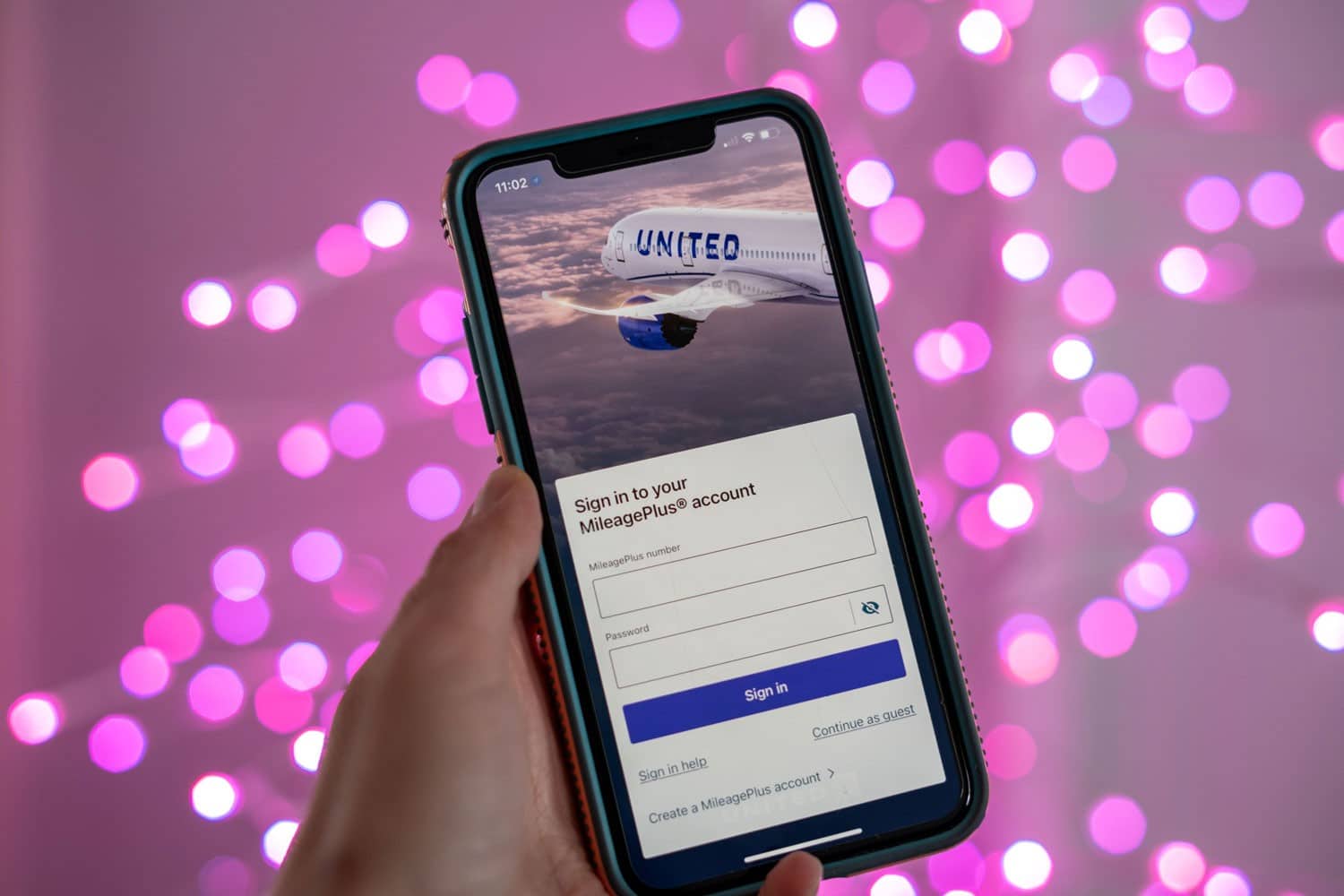 Converting Points
The United MileagePlus program is preferred partners with Marriott Bonvoy. If you already have an account with Marriott Bonvoy Points, you can convert those points into United Miles at a 3:1 point conversion. United also gifts a bonus of 5,000 miles every time you transfer 60,000 Marriott Bonvoy Points.
However, both programs can be used for redeeming for travel rewards. Be sure to check the rewards of both programs to see if converting is necessary since you'll get a fraction of the points converted into United Miles.
Buy or Transfer
United offers an option to buy and transfer United Miles. United MileagePlus members who want to take advantage of United rewards or upgrade their travel plans using miles can purchase them before booking. Miles cost $35/1000 miles with fees and taxes added. It frequently holds sales on points, however the cost-to-value of purchased points isn't as good as earned points. There are also transfer fees applied that effectively decrease the value of miles when transferred.
These options aren't the preferred way to get United Miles.
Miscellaneous
United has partnerships with various companies that can help you earn United Miles through various everyday activities. Home, finance, restaurants, and even extensions added to your internet browser give points for online purchases.
Earning United Rewards on Travel Partners
The United MileagePlus program opens up a world of travel—you don't even have to fly United! United's partnerships make their miles program a premier service that gives many ways to earn and redeem rewards.
United has partnerships in the following categories:
Airline Partners
Star Alliance – earn United miles with more than 28 airlines traveling to 1,300+ destinations.
Other regional airlines for global travel
Hotels and Vacation Rentals
Marriot/Marriot Vacation Club
Hilton
Hyatt
Wyndham
Transportation
It's important to note that making reservations with one of United's travel partners may not earn one-for-one United Miles. For example, United follows the current schedule when calculating your United Miles earned on qualifying airline purchases*:
| | |
| --- | --- |
| Preferred Partner | Trip Miles / 5 = United Miles Earned |
| MileagePlus Partner | Trip Miles / 6 = United Miles Earned |
*United MileagePlus status members at Premier Gold level or higher can earn bonuses per purchase.
Did you know that you don't even have to travel to earn United miles? The United Mileage Plus program lets you earn more with everyday activities like going to the gas station, dining at your favorite restaurant, and even streaming services. So now, those Netflix binges can actually be earning you points towards your dream vacation!
United Rewards Cards are credit cards by United that earn you points when you use them. You'll even get bonus United Miles when signing up. See the chart below for an overview of the United Rewards Cards:
| | | |
| --- | --- | --- |
| United Reward Card | Perks | Earning United Miles |
| United Gateway Card | No annual fee30,000 United Miles bonus when you sign up | earns 2x miles with qualified United purchasesearns 2x miles on gas, commuting purchases |
| United Explorer Card | Free checked bagUp to 70,000 United Miles bonus when you sign up | earns 2x miles with qualified United purchasesearns 2x miles booking direct with hotel or qualified restaurants |
| United Quest Card | $125 purchase credit with United30,000 United Miles bonus when you sign up | earns 3x miles with qualifies United purchasesearns 2x miles on travel, streaming, dining,Anniversary flight credits |
| United Club Infinite Card | United Club membership100,000 United Miles bonus when you sign up | earns 4x miles on qualified United purchasesearns 2x miles on travel and dining |
United Rewards Cards
Make sure to read the details for each credit card and understand the responsibilities before signing up! For example, some cards may come with an annual fee and have spending requirements before earning the bonus miles.
Different tiers of MileagePlus Premier Memberships
The most elite United MileagePlus members will earn their way into a MileagePlus Premier Membership. This premium membership program comes with four tiers. Each has special perks for users who achieve the status:
Premier Silver
Premier Gold
Premier Platinum
Premier 1K
Achieving the MileagePlus status received a recent update in 2020. The previous system factored in the distance traveled when determining if you earned a membership status. However, the current system relies on a points system based on how much you spend with the airline and how frequently you fly.
Here are the benefits and requirements for the different tiers:
Membership
Benefits
Requirements
Premier Silver
Complimentary seat upgrades·
1 free checked bag
Earn 7x United Miles for each flight
8 Flights and 3,000 points OR 3,500 points
Premier Gold
2 free check bags
Earn 8x United Miles for each flight
16 Flights and 6,000 points OR 7,000 points
Premier Platinum
3 free checked bags
Earn 9x United Miles for each flight
24 Flights and 9,000 points OR 10,000 points
Premier 1K
Pre-boarding
Complimentary drink and snack in Economy class
Earn 11x United Miles for each flight1K
36 Flights and 13,500 points OR 15,000 points
The current program is designed to make achieving membership status easier for the airline's top clients. And with several options available for earning points, you can even achieve the status without being a frequent flyer.
Achieving the Premier Gold status or higher grants you access to Gold Status on the Star Alliance to receive benefits across all the partner airlines.
Find yourself reaching one of the premier statuses year after year? The ultimate status achievement for the United MileagePlus program is lifetime status. Of course, you'll need to rack up lots of miles to get there, but it's possible!
Premier Gold – 1,00,000 miles for Lifetime status
Premier Platinum – 2,000,000 miles for Lifetime status
Premier 1K – 3,000,000 miles for Lifetime status
Redeeming Your United Miles?
You've been patient letting your United Miles add up in your account, and now you're ready to take advantage of the United Rewards that you've been eying! So, whether you're planning an exotic vacation, need a car for a road trip, or need a hotel while in town with friends for a couple of days, United Miles has you covered.
To redeem points earned with your United Miles, you will need your United MileagePlus number when making your reservations and bookings.
United makes it user-friendly for taking advantage of United Rewards. It allows users booking directly on its platform to browse flights specifically for Award Travel. Select the option in the menu and customize your flight options before searching.
Thanks to their partnerships with Star Alliance airlines and other industry partners, it includes results for all applicable airlines to allow more flexibility when booking with your United Miles.
One of the benefits of using your United Miles to redeem for rewards is earning United Miles for the trip your make! That means you'll get back some of the points you've already spent on qualifying reservations.
Frequently Asked Questions
1. Can my United Miles expire?
The good news about earning miles through the United MileagePlus program is that your United Miles never expire! The miles in your account roll over every year until you're ready to use them.
2. Can I gift United Miles?
Travel makes the perfect gift, and you can give it away to a special someone. United allows members of its United MileagePlus program to gift/transfer miles to another account. Alternatively, you can also buy miles for your account or another.
3. How much does it cost to join the United MileagePlus program?
The United MileagePlus program is FREE to join! Travelers are encouraged to sign up since it's a free program with plenty of ways to take advantage of the United Rewards regardless of whether you're traveling on United or a partnering company.