Delta Airlines Now Offers Free Wifi
PointsCrowd is a community-supported platform. When you apply for a credit card, make an order, or otherwise interact with the advertisers through the links on this page we may earn an affiliate commission. This helps us maintain and develop the platform further at no cost to you.
Now, even in airplane mode you can enjoy more than listen to music, read ebooks, and prose old photos. Unlock the full capabilities of your smartphone at 30,000 feet in the air with free wifi coming to all Delta Airlines flights!
Delta Airlines continues to take its onboard experience to new heights, with onboard wifi available to travelers. Surf the web and enjoy entertainment with a high-speed wifi connection during your flight.
We've all had our fingers crossed about free onboard wifi. Leaked PR communications began circling the media in July 2022. These rumors were softly confirmed with a pilot run during early quarter 4 2022 for the service available only for Delta SkyMiles Medallion Elite members. Delta Airlines continues the rollout with its latest and biggest announcement yet in mid-November 2022 when it launches free inflight wi-fi for all Delta SkyMiles members.
As wifi connection capabilities increase, Delta Airlines wants to provide free wifi access on all Delta planes by late 2024.
What's Available on Delta wifi?
When accessing Delta Inflight wifi, users are prompted with the different network features. Enjoy leisure and entertainment that have both free and paid features.
Inflight wifi
Delta has three tiers of in-flight wifi—free, paid, and subscription. The widespread release of free wifi access can decrease the popularity of other options, but for now, they are all still available on eligible flights.
Free wifi is currently available to all Delta SkyMiles members. If you do not have a Delta SkyMiles account, it's free to sign up at https://www.delta.com/join-skymiles/ and start enjoying all benefits of the program, including free unlimited wifi.
The paid wifi option is still available with rates for a Delta wifi pass or monthly subscription. The subscription model lets you get wifi access on all qualifying flights for the duration of your plan. See below for how much Delta wifi costs:
| | | |
| --- | --- | --- |
| Delta wifi Pass | Wifi access on a single flight | $4.99 (one-time per flight) |
| Monthly Domestic Plan | Wifi access on all domestic flights | $49.95/month |
| Monthly Global Plan | Wifi access on domestic and international flights | $69.95/month |
Delta Free Messaging
Delta Airlines lets you keep your conversations going even while flying. In addition to wifi, Delta also has a free messaging service. The service lets anyone connect to a limited wifi network that allows you to send and receive messages through iMessage, WhatsApp, and Facebook.
Not a Delta SkyMiles member? No problem! The onboard Free Messaging service is available for every seat. The free messaging is an excellent alternative if you do not want to use the paid premium wifi options.
Since your devices have limited connectivity with free messaging, this service does not have the same bandwidth as the onboard wifi option. As a result, downloading images and videos in message threads may be limited.
Delta Studio
Delta Studio is the airline's onboard entertainment platform available on many domestic, international, and regional flights serviced with larger planes equipped with seatback screens. It's now available in the palm of your hands, with access available on your personal devices via deltawifi.com.
Passengers can now access more than 1,000 hours of entertainment. Spend a long-haul flight binge-watching your favorite Hulu TV series. Check out new movie releases on HBO and Showtime. Even watch live satellite TV. Other entertainment includes listening to podcasts or playing games.
What Delta Flights Have Free wifi?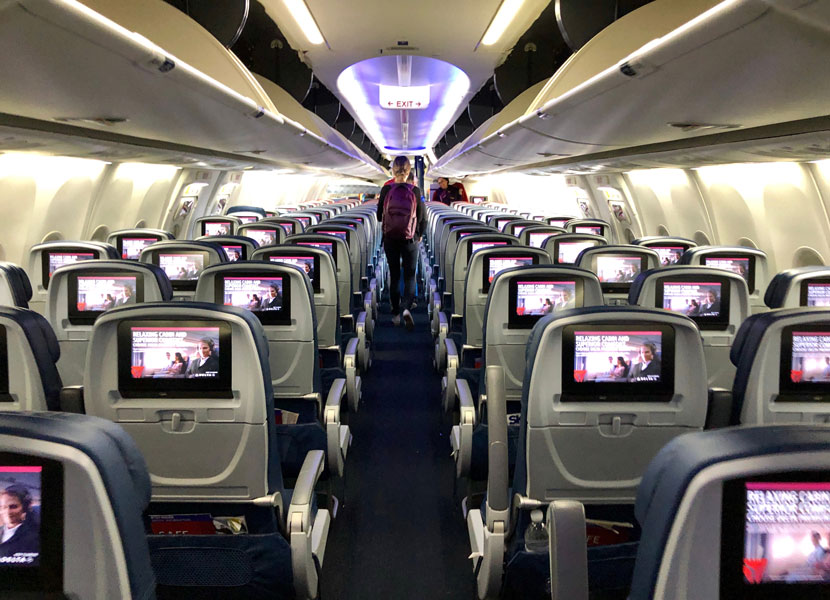 As of 2021, Delta Airlines made technological improvements to a segment of its fleet. It installed Viasat antennas on 313 aircraft to allow in-flight wifi capabilities on the Viasat network—an improved service from its original Gogo network. Delta Airlines jets that have free wifi are:
Boeing 737-900ER
Boeing 757-200
Airbus A321
All the wifi-capable aircraft are narrow-body jets that are part of the domestic mainline fleet. Delta free in-flight wifi service is not yet available on regional flights. However, it will be available on regional and international flights as early as 2024.
Viasat vs. Gogo
Delta Airlines cabins stay updated with modern wifi technology. Delta was an early adopter of in-flight wifi after adding the service to flights starting in 2008. It started with the Gogo network added across a large segment of its fleet. The latest Viasat technology offers more capabilities for Delta's growing demand for wifi, so it's currently being added to airplanes with the Gogo network in phases.
As Delta Airlines rolls out the new Viasat network to the fleet, both networks remain in service with different functionality and availability.
Viasat – an updated wifi technology that allows passengers to connect to the internet from 'pushback to park.' It currently operates KA on select aircraft for the following models:
Boeing – 737-900 and 757-200
Airbus – A321
Gogo – the original technology powering the Delta inflight wifi. It also has high-speed service from 'pushback to park.' It's currently available for short-haul regional flights and international flights. It has two networks available on select aircraft of the following models:
2Ku
Boeing – 737-800, 737-900, 757-200, 757-300
Airbus – A220, A319, A320, A321, A330-900, and A350
Ku
Boeing – 757-200*, 767-300, and 767-400
Airbus – A330-200, A330-300
It projects the year 2024 for free wifi access across the entire fleet due to installing the new Viasat antennas.
How to Get Free Wifi on Delta Flights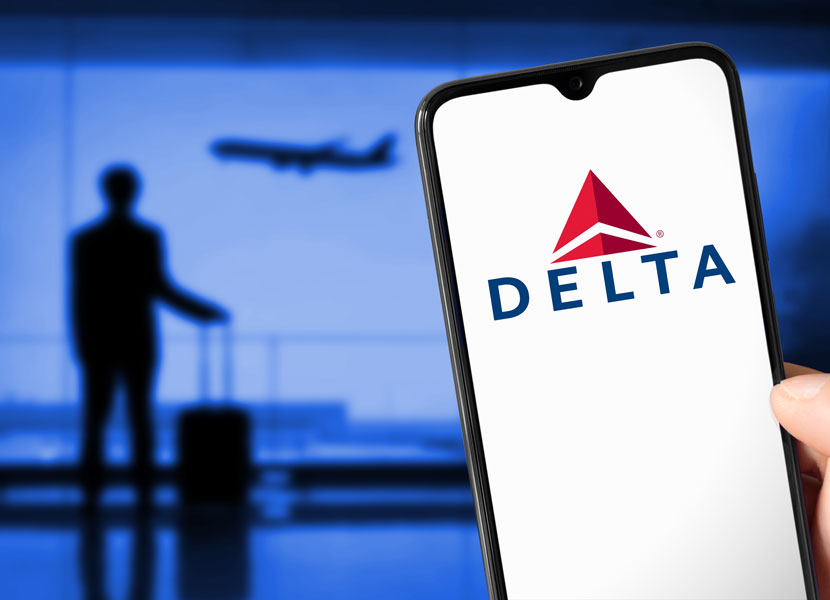 How to Connect to Delta Wifi via Delta Airlines (Youtube)
Accessing free onboard wifi during your next Delta Flight is easy. The good news is it works for all cellphones with wifi and internet features. Use the following steps to enjoy unlimited connection on the network:
Step 1: Go to your device settings and make sure you have airplane mode turned on and your wifi turned on.
Step 2: Open your wifi settings and select 'deltawifi.com' from the list of available networks
Step 3: After connecting to the network, open your web browser and visit deltawifi.com, if you are not redirected automatically.
Step 4: Choose an activity – Delta Studio, In-flight wifi, Free Messaging
The above steps give access to the limited wifi network, which excludes surfing, streaming, etc. All Delta SkyMiles members can access the unlimited wifi by adding the following step:
Step 5: Log in to your Delta SkyMiles account on the deltawifi.com website
Competition
Delta Airlines take off as one of the first major carriers in the US to make its in-flight wifi services available to all passengers. However, other carriers aren't lagging too far behind the tailwinds. Wifi is an ever-growing necessity on flights, and it's a race with technology to keep flyers connected in the skies.
JetBlue is a long-time favorite for heavy wifi users who get to enjoy gate-to-gate Fly-fi service. United has a similar free messaging service available for T-Mobile customers only.
Other companies like American Airlines and Spirit still only have paid wifi options, but the travel trend can quickly change their policies to keep up with the competition.
Things to Know About Free Delta Onboard wifi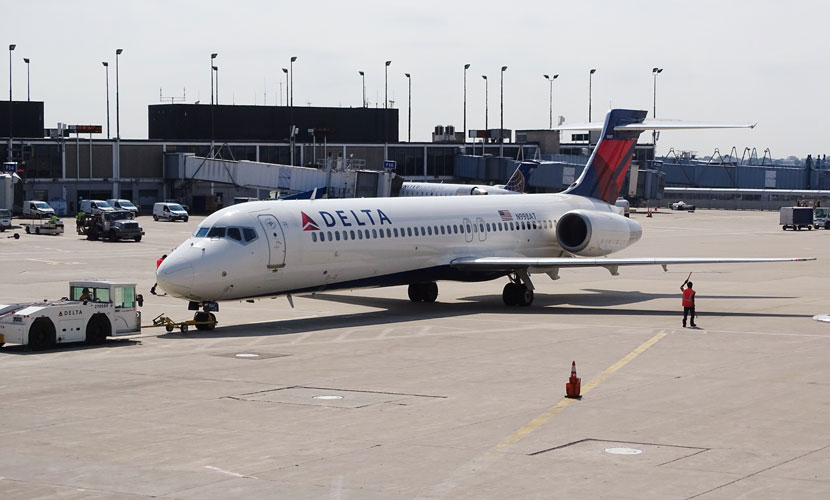 Wifi Access for Everyone
While the premium Delta First class seats still have a leg up on the amenities of the other cabins, wifi isn't one of them. Now, equipped Delta flights provide high-speed wifi throughout the entire plane. Travelers in the main cabin and premium cabins each have access to in-flight wifi.
The free Delta wifi is currently only available to Delta SkyMiles members. However, Delta is rolling out the wifi upgrades across its fleet to make the amenities a standard for all travelers on the airline.
What devices can access Delta In-Flight wifi?
Wifi service during your flight with Delta Airlines is accessible on all wifi-enable devices. This includes smartphone devices, tablets and e-readers, and laptop computers. Note that all devices must be set to airplane mode before connecting to the wifi.
Limitations to Delta In-Flight wifi
Free onboard wifi gives Delta travelers more online flexibility. Accessing the free wifi services lets you browse the web freely instead of being limited to specific apps on the basic wifi option. However, the bandwidth for browsing is the biggest limitation on the wifi. Streaming movies and music, gaming, and other activities that require lots of bandwidth may cause lag or be unable to load. Improved streaming capabilities are available on flights equipped with the Viasat technology.
What's the duration of the Delta Onboard wifi?
Select aircraft in the Delta Airlines fleet equipped with only the Gogo network have more limited use time compared to the upgraded Viasat system. Some aircraft only allow internet access on flights reaching elevations over 10,000 feet.
Thanks to the updated system, travelers can now use Delta Onboard wifi from gate to gate. Aircraft equipped with Viasat antennas let fliers connect to the wifi immediately once they take their seats and for the entire flight until reaching your destination gate.
Wifi is already available on international flights as a paid option. International travelers also can access Delta Studio and Free Messaging for free.
Delta SkyMiles members have yet another excellent perk to take advantage of when traveling on Delta. Free wifi access during flights is an incentive for everyone to sign up for the miles program. And since signing up for the program is free, anyone traveling on a Delta flight can get free wifi.
Delta Airlines continues improving its in-flight experience, and free wifi will soon be available on all Delta flights.