Delta Sky Club Grab-and-Go Stations for Travelers in a Hurry
PointsCrowd is a community-supported platform. When you apply for a credit card, make an order, or otherwise interact with the advertisers through the links on this page we may earn an affiliate commission. This helps us maintain and develop the platform further at no cost to you.
Delta Sky Club lounges now feature a grab-and-go alternative for travelers short on time. Launched in major airport hubs in Atlanta and New York, these food and beverage kiosks will give travelers more convenience by taking advantage of Sky Club perks even on short layovers while providing Delta with a solution to reduce overcrowding in its lounges. Here's what you can expect!
An Expedited Lounge Experience
ATL and JFK airports provide a pilot for a new stand-alone lounge feature by Delta. The airline is placing a separate grab-and-go food and beverage kiosk at its Sky Club Lounge locations to make it easier for travelers to get what they want and continue to their gates.
Complimentary food and drinks are among the most popular reasons travelers visit lounges. So, instead of waiting in line to enter the lounge on a busy travel day just for a quick bite, the kiosk is now available to use instead.
The grab-and-go kiosks will have basic prepackaged items to grab and eat later. Here's some of the food you can pick up:
Main item – cold sandwiches, entree salad, lunch wrap, warm breakfast wrap, snack box
Snack – Miss Vickie's chips, cup of mixed fruit, veggie platter, mixed nuts
Sweets – Nature Valley granola bars, yogurt, wrapped muffins
Beverage (non-alcoholic only) – Soft drinks, Water, coffee, tea
How it works
The new grad-and-go kiosks opened earlier this month at Delta hubs Hartsfield-Jackson Atlanta International Airport (in Concourse B) and the JFK International Airport (in Terminal 4, Concourse B). Each kiosk is in the lobby of the Delta Sky Club.
Travelers have the option to enter the lounge or pick from the grab-and-go station. Choosing the grab-and-go option lets you skip the line to enter the lounge and get your food/drinks directly.
The grab-and-go station requires a ticket that you get from the reception desk. Take the ticket to the grab-and-go station to make your selection. Delta limits how much you can take by giving each ticket holder a choice of one food from each category: main item, snack, sweet, and beverage).
With grab-and-go, there are no tables to sit at after getting your food. Instead, it's a takeaway concept to improve the flow of travelers using the lounges.
Downsides to Delta Grab-and-Go
The grab-and-go kiosks make it easy for travelers who don't have enough time to get the entire lounge experience. This can be due to short layovers, which are common in these pilot cities—also long wait times to get into a lounge when it's busy. However, there are a couple of downsides to expediting the lounge experience.
No Sky Club access
Selecting the grab-and-go kiosk ticket means you cannot access the Sky Club. The kiosk counts as a "lounge visit," so you can't enter the lounge before or after the day you use the grab-and-go service.
It's no problem for travelers with short layovers who just want something quick. But if you have more time in the airport, it may be worth the wait to enter the Sky Club lounge.
Limits on food
Food and drinks are a premier feature for lounges, especially all-you-can-eat. However, unlike the unlimited buffet inside the Sky Club, the grab-and-go kiosk only gives a limited selection.
Delta Sky Club returned to serving hot food in the lounges after we saw prepackaged food served during the pandemic era. The grab-and-go options are similar to these, so don't expect hot food to go.
On the one hand, the grab-and-go kiosk adds value to travelers with lounge access who never had time to enjoy its amenities, like complimentary food. But on the other hand, travelers who are able to spend time in the lounge won't get as much value from the kiosk since it makes you ineligible to enter the Sky Club.
Who can Access the Grab-and-Go?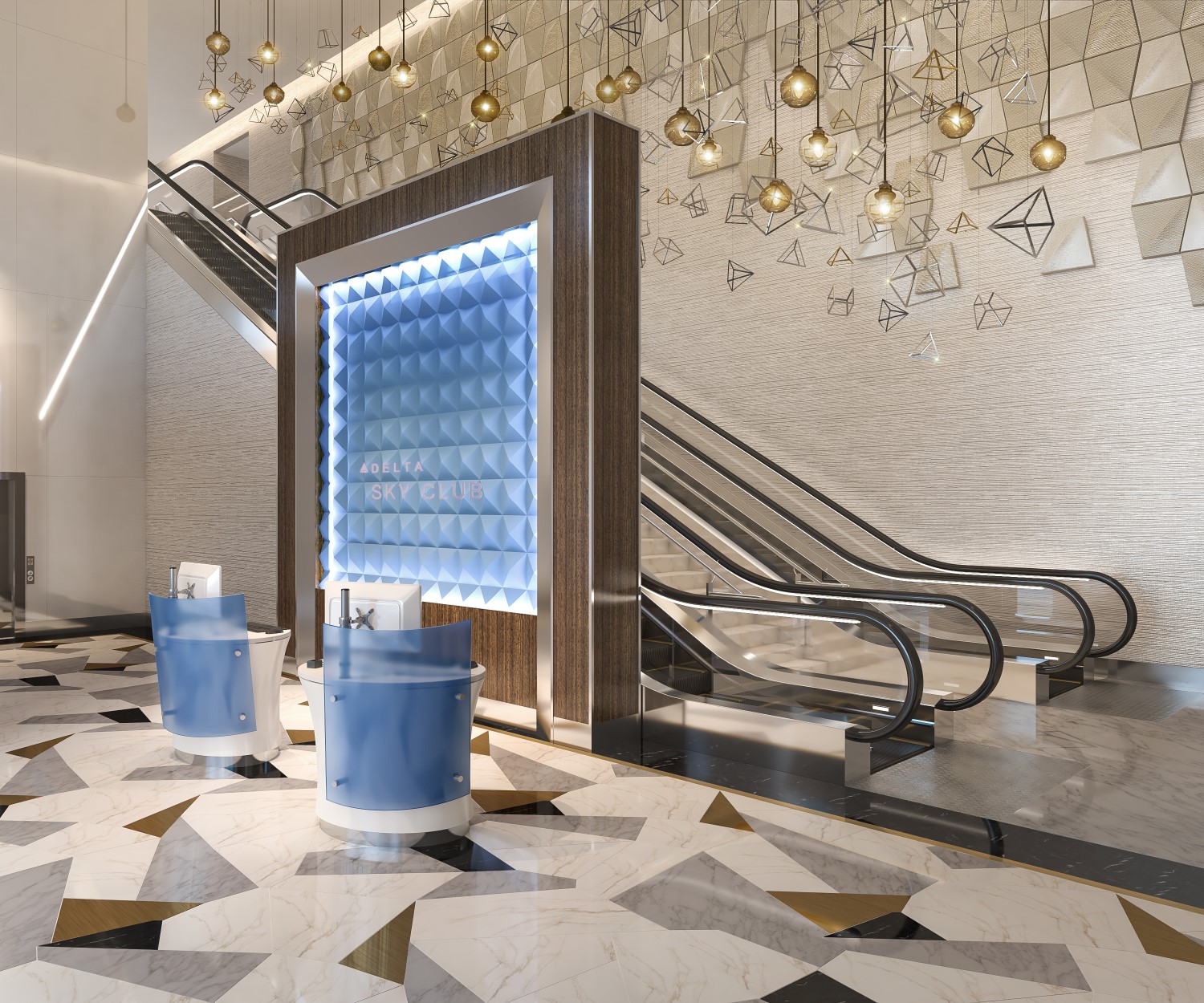 The accessibility to enter Delta Lounges has skyrocketed for travelers. Whether you're a loyalty member or have access via your credit card, you can get access to the grab-and-go. Here's how you can use this new feature:
Delta Sky Club Membership -$695/year or 69,500 miles
Delta Passengers – Delta One and SkyTeam Premium Cabin
Loyalty Members – Diamond, Platinum, and Gold Medallion
Credit Cards Holders – American Express Centurion Card and American Express Platinum Card (valid if traveling on Delta the same day)
The grab-and-go kiosk is available for anyone who can enter the lounge.
Lounge Troubles With Delta
Having many options for those allowed in the lounges has made Delta Sky Club popular for many travelers, especially in its busiest airports. For example, the Hartsfield-Jackson Atlanta International Airport gets 30+ million Delta travelers every year, many of which are eligible for the lounge.
While it's one solution to the overcrowding issue, it's not the only thing Delta is doing to make its lounge more exclusive, such as increasing entry and membership prices. In addition, it's planning a new lounge in JFK airport scheduled for later this year as well as new Sky Clubs at Boston Logan International Airport (BOS) and Newark Liberty International Airport (EWR).
As for new Delta grab-and-go kiosks or even rumored stand-alone locations, we wait to see the success (or failure) of the pilot tests in the two airports. Other airlines like United Airlines and Air Canada also use the grab-and-go concept.