Get rewarded with IHG: Earn 2,000 Points Every 2 Nights
PointsCrowd is a community-supported platform. When you apply for a credit card, make an order, or otherwise interact with the advertisers through the links on this page we may earn an affiliate commission. This helps us maintain and develop the platform further at no cost to you.
Are you a frequent traveler looking for ways to earn more rewards points for your next stay?
IHG Hotels & Resorts has just launched a new promotion that might interest you! From February 9th to April 14th, 2023, IHG One Rewards members can earn 2,000 bonus points every two qualifying room nights, with unlimited earning potential during the promotion period.
How to participate in the "2,000 Points Every 2 Nights" Promotion
To participate in the "2,000 Points Every 2 Nights" Promotion, you need to have an active, valid IHG One Rewards member account and register for the promotion. If you haven't registered yet, don't worry, you can still do so during the promotion period. Just keep in mind that you can only register once, and you must accept the terms and conditions of the promotion.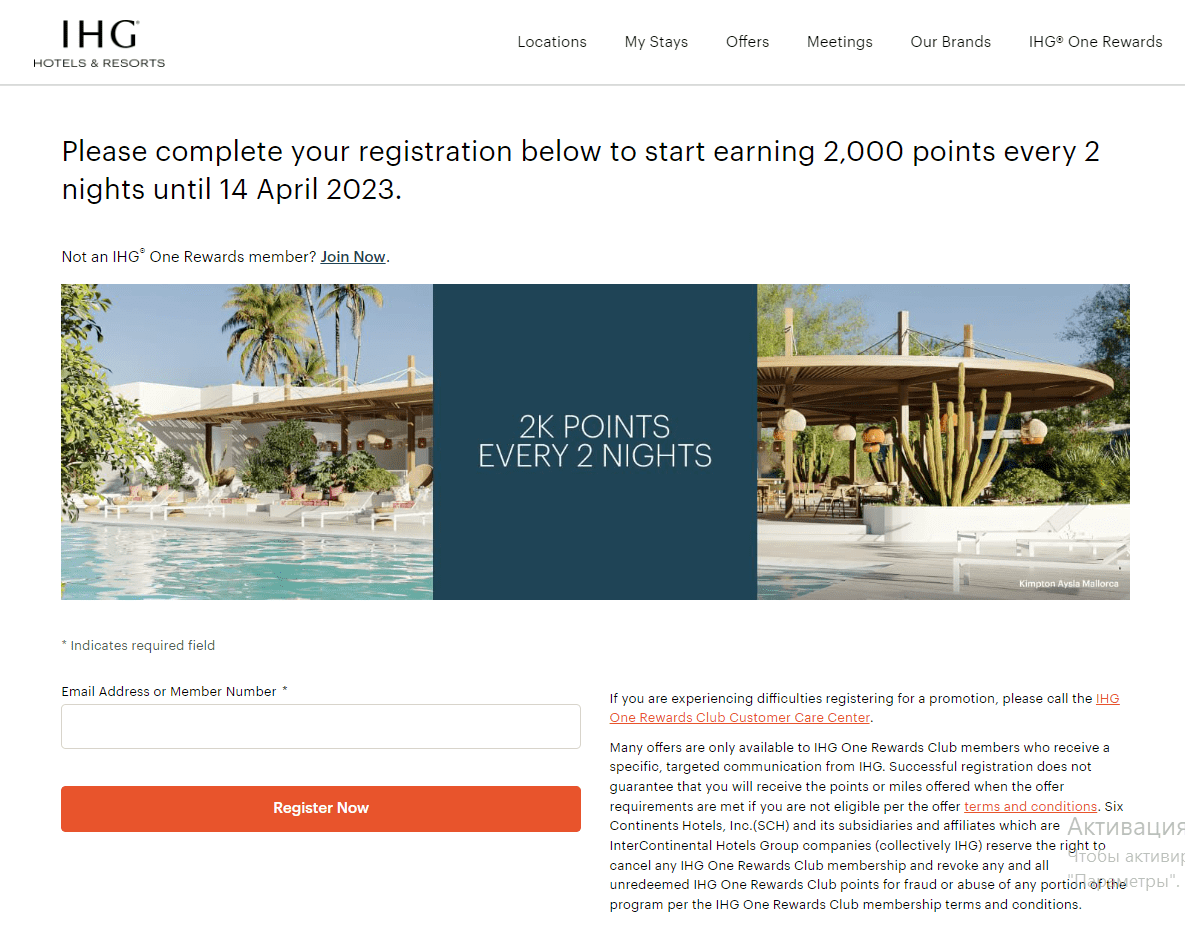 The bonus points earned during this promotion can be used for Reward Nights, merchandise, or other redemption opportunities under the IHG One Rewards program. Just note that it may take up to six weeks for the bonus points to be posted to your account.
The conditions of booking and accommodation for participating in the promotion are described in detail
To qualify for this promotion, your room nights must be part of a Promotion Eligible Qualifying Stay, which means a minimum of one night stay at a participating hotel booked under a Qualifying Rate, with a total spend exceeding US $30 (or local currency equivalent) for each night. Participating hotels include all IHG® Hotels & Resorts and Mr and Mrs Smith properties, with some exceptions like Six Senses® Hotels, Resorts, & Spas that do not participate in IHG One Rewards, and Iberostar Beachfront Resorts that are not yet fully integrated into the program.
Remember, stays booked using Reward Nights or Points & Cash are not Promotion Eligible Qualifying Stays for the purposes of this Promotion, and bookings made through online travel agencies or other reservation sites such as booking.com or expedia.com also do not qualify.
If you check into the same room with another member, only one of you will be eligible to earn points for the qualifying nights. And if you book more than one room on the same night, you will only receive bonus points for the Promotion on the room with the higher rate.
The full terms and conditions for the Promotion "2,000 Points Every 2 Nights" are available here.
Overall, if you already have plans to stay with IHG during the promotion period, this offer can be a nice little bonus. While it might not be the best offer IHG has ever had, the unlimited earning potential and the flexibility to use the bonus points for various redemption opportunities make it worth considering. So, don't forget to register for the promotion and start earning your bonus points!
Check you some of the best IHG One Rewards points redemptions
5 nights at Kimpton Margot Sydney
5 nights at InterContinental Presidente Mexico City