Get Instant Frontier Elite 20K Status With Any US Travel Credit Card
PointsCrowd is a community-supported platform. When you apply for a credit card, make an order, or otherwise interact with the advertisers through the links on this page we may earn an affiliate commission. This helps us maintain and develop the platform further at no cost to you.

Most credit cards have loyalty to a specific airline or hotel. However, regardless of which card you have, Frontier is accepting it to grant you instant Elite 20K Status.
Learn how to get Frontier status with your travel credit card and if it's worth the cost.
Two Ways to Earn Elite Status
Frontier invites any traveler with a travel rewards credit card to apply for one of two Elite 20K offers. One offer gets you instant access to the tier, and the other gives you a challenge to expedite your way to earn it.
Offer 1: Purchase Elite 20K Status Today
Instantly upgrade your Frontier status to Elite 20K for benefits valid until December 31, 2023. It costs $499 one-time fee. Note that the travel credit card you submit will be charged the fee.
Offer 2: Take the Elite 20K Challenge
Want to save $499? Apply for the status challenge instead! It has an $80 application fee but gives a chance to earn Elite 20K status much easier. Travelers have until September 30, 2023, to meet the status challenge requirements and retain their status benefits:
Earn at least 5,000 qualifying miles with Frontier Airlines
Spend at least $5,000 using your Frontier Airlines World Mastercard
Eligible combination of flying and spending requirements.
The first 2,000 customers approved for the accelerated status challenge will have a reduced fee.
Elite 20K Status Benefits
Frontier has a three-tiered status program awarded to loyal travelers with the airline. Elite 20K is Frontier's lowest tier status and earned after achieving 20,000 miles. The latest offer expedites travelers to the status either by purchasing an instant upgrade or the challenge for only 5,000 miles. However, both methods unlock all Elite 20K benefits, which include:
Free carry-on bag
Upgrade to stretch seating for free if available
Pick your seat free
Priority Boarding
Waived award fees and travel fees
Last seat award
Who's Eligible for the Elite 20K Offers?
The latest Frontier offer is available to anyone with a US-issued travel credit card, although the benefits are for Frontier travelers. Popular travel credit cards eligible for the promotion are:
FRONTIER Airlines World Mastercard®
Chase Sapphire Preferred Card
The Platinum Card from American Express
Citi Premier Card
Capital One Venture Rewards Credit Card
Bank of America Travel Rewards Credit Card
Purchasing elite status with offer one will also give point earnings on travel spending offered by your card. Option two will earn points and miles on your card program while meeting the minimum challenge requirements.
How to get the offer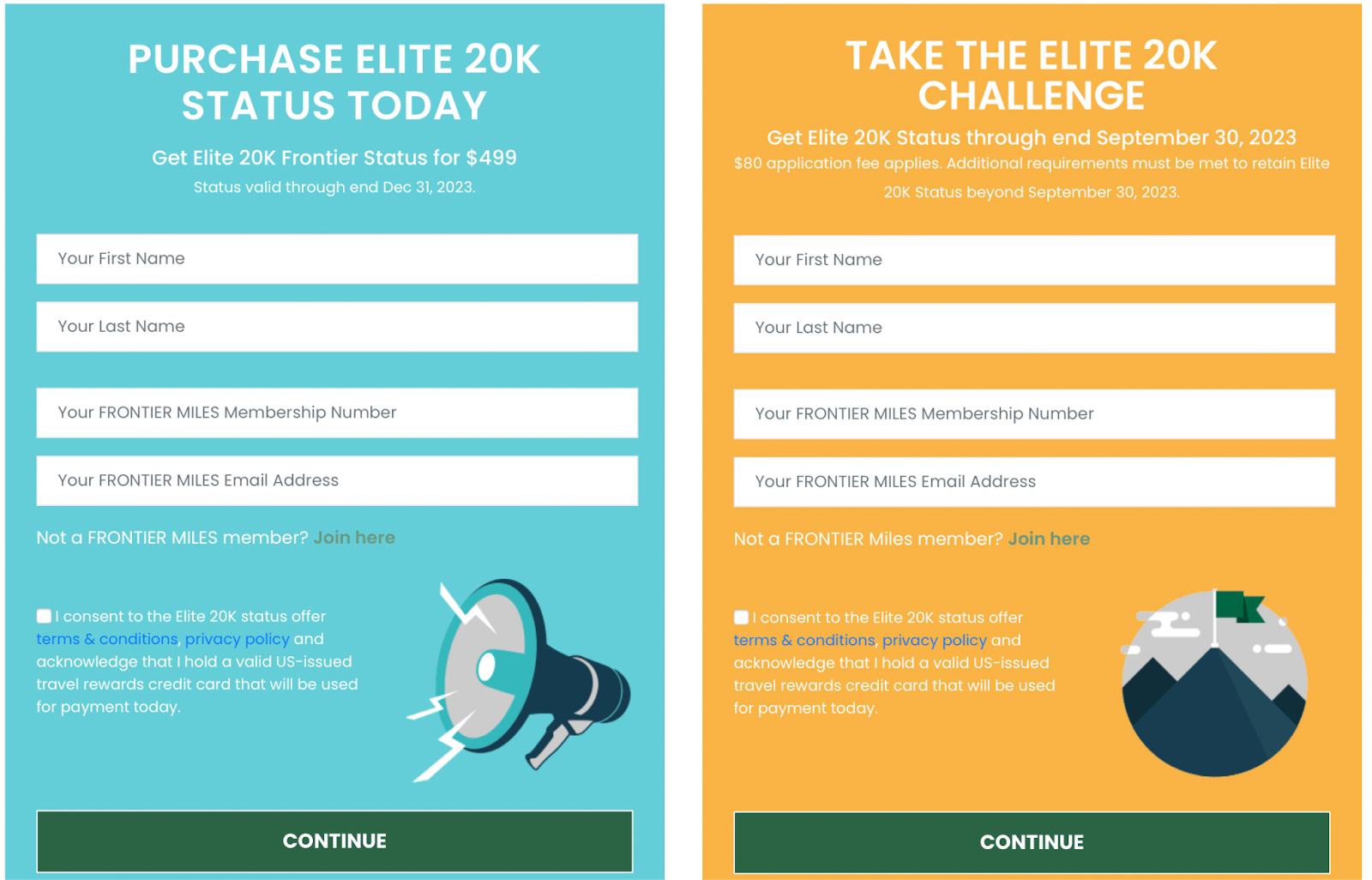 The Frontier Elite 20K Status offer is available for a limited time through September 30. Here's how to fast-track your way to elite status:
1. Visit the offer page
2. Check credit card eligibility using a one-page checker (only USA cardholders)
3. Select your Elite 20K offer – Instant purchase or accelerator challenge
4. Click Continue to complete registration
Members who signed up for the instant status upgrade will get their account proceeded within 48 hours.
Bottom Line
Frontier has several promotional offers to entice travelers this summer. The Elite 20K Status is useful when using the GoWild Summer Pass to enjoy benefits on all your flights. Keep in mind that miles traveled with the summer or annual passes do not count towards earning status.
The high price tag for instant status upgrades makes the offer only beneficial to frequent travelers with the airline. Also, completing the accelerator challenge means lots of traveling with Frontier—without the all-you-can-fly passes. However, using your travel credit card – Frontier or other – will give additional benefits when completing this offer.