Get $25 Lyft Credit On Your Next Hilton Stay
PointsCrowd is a community-supported platform. When you apply for a credit card, make an order, or otherwise interact with the advertisers through the links on this page we may earn an affiliate commission. This helps us maintain and develop the platform further at no cost to you.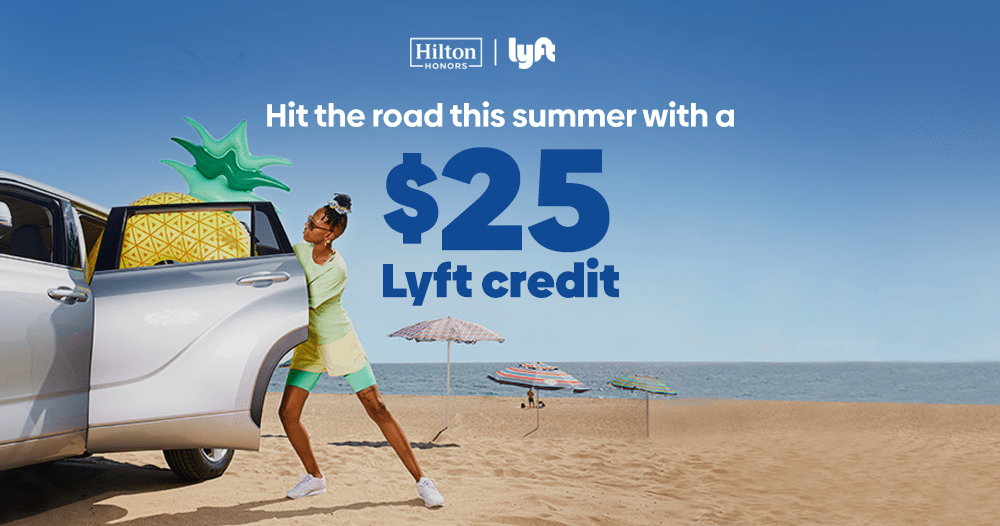 Hilton is honoring its loyalty members with the gift of ride-sharing this summer in a new promotion. Booking a stay at any of Hilton's 6,000 properties worldwide will earn a $25 Lyft credit towards free rides. Hilton and Lyft are preferred partners with tons of point-earning potential, so this deal is a bonus on top of the perks you'll already earn.
Stay and Earn with Hilton
The Hilton and Lyft partnership lets members with linked accounts earn both ways. The latest promotion gives a $25 ride credit when staying at a Hilton property between May 25-Sept 5, 2023. It gives you the entire summer season to complete your stay and earn the credits. Note that you must complete your stay within the promotional period after linking your account. Unlinked accounts will not receive credits for previous stays during the period.
The $25 Lyft credits are delivered within four weeks of completing your stay at Hilton. So, while you won't be able to use the Lyft credits to arrive at your hotel or check out local attractions, you can use them for your next trip.
The major downside is that the credits expire at the end of the year on 12/31/23.
Earning Hilton Honors Points With Lyft
Linking your Hilton Honors and Lyft accounts has more benefits than just getting the one-time credit offer. The two companies let you earn Hilton Honors points every time you ride with Lyft. Here's how to earn:
Get 3x points per $1 spent on Lyft economy, luxury, and extra seat rides
Get 2x points per $1 spent on shared Lyft rides
Using the $25 Lyft credit will not earn additional points, but you can use Hilton Honors points to purchase more Lyft credits. For comparison, here's a breakdown of how many credits you can get using Hilton Honors points:
| | |
| --- | --- |
| Hilton Honors Points | Lyft Credits |
| 4,500 points | $10 credit |
| 11,250 points | $25 credit |
| 22,500 points | $50 credit |
| 33,750 points | $75 credit |
| 45,000 points | $100 credit |
If you're a frequent Lyft rider, the best way to maximize this offer is to book your stay using one of the Hilton Honors credit cards. Hilton Honors members get a base rate of 10 points per dollar spent on bookings, and these credit cards add even more bonus points.
| | | |
| --- | --- | --- |
| Credit card | Annual Fee | Bonus points earned per $1 spent on Hilton |
| Hilton Honors American Express Card | No annual fee | Earn 7x points |
| Hilton Honors American Express Surpass Card | $95 | Earn 12x points |
| Hilton Honors American Express Aspire Card | $450 | Earn 14x points |
Not only will you qualify for the $25 Lyft credit, but the point bonus earnings on the credit cards can give you enough points to redeem later for even more Lyft credits.
Linking your Hilton Honors and Lyft Accounts

Lyft has several travel partners for earning loyalty programs on Delta and JetBlue. Members can link all of their accounts. However, it only allows you to select one 'preferred partner' to earn on the current ride. So, make sure to choose Hilton every time you want to earn Hilton Honors points.
Here are the steps to linking your Hilton Honors and Lyft accounts to register for the $25 Lyft credit promotion:
1. Visit the promo landing page
2. Register by logging in to your Hilton Honors account or signing up for free.
3. Link your accounts on https://hiltonhonorslyft.com/ 
4. Complete your stay by 9/5/23
Final Thoughts
Getting Lyft credits just for staying at any Hilton property is a good deal. It's free to register and takes a few minutes, so it's worth it for everyone to link their accounts—even for the point earnings with Lyft rides.
However, booking a stay at Hilton just to get the ride credits is not worth it since hotel rooms cost much more than the $25 you'll earn. Instead, taking advantage of earning Hilton Honors points when booking with Hilton credit cards will give the most value from the offer.
Already planning a stay with Hilton? Let us know in the comments which property you're visiting and if you're registering to get your $25 Lyft credits.