SeaTac Alaska Lounge Reopens With Brand New Look and Experience
PointsCrowd is a community-supported platform. When you apply for a credit card, make an order, or otherwise interact with the advertisers through the links on this page we may earn an affiliate commission. This helps us maintain and develop the platform further at no cost to you.
Alaska Airlines just revealed the new look to its SeaTac airport lounge on June 21. The five-month wait is now over, and travelers can once again enjoy the food, drinks, comforts, and productivity in an all-new setting. We've got photos and will show you how to get inside, so keep reading!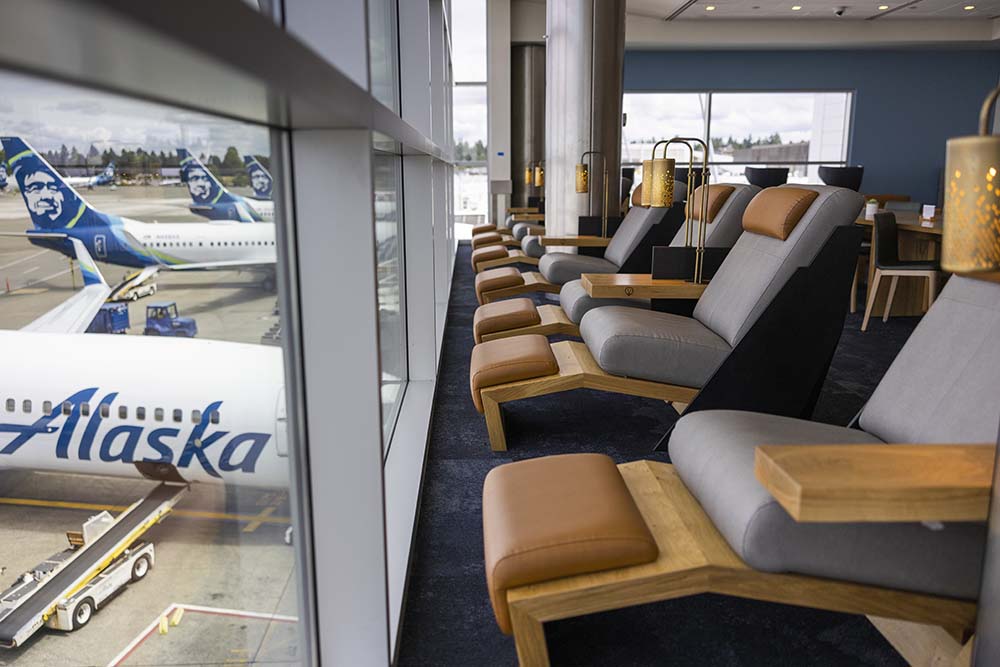 Much-needed Improvements to the Alaska Lounge
Seattle-Tacoma International Airport serves as the headquarters for Alaska Airlines. It's a major hub, transporting more than 18 million passengers every year. It has three airport lounges located in Concourse D, C, and the North Satellite Building (N Concourse). The oldest of the group, Concourse D, recently reopened after renovations as part of the airline's efforts to expand its airport lounge network.
It's been more than 20 years since the last major change in this two-story lounge, and travelers will be glad to see the following improvements on their next visit:
More seating – The lounge expanded to include 50% more seating. In addition to more seating options, it also upgraded many seats for comfort. The mezzanine level features chairs with a view overlooking the airport runway to watch Alaska Airlines aircraft take off and land.
New Barista Station – The first level barista station is now even larger, with more space to sit. Baristas serve complimentary Starbucks coffee, alcoholic, and soft drinks.
New Hot Food Menu Items – Travelers have a more extensive selection of hot food during breakfast and lunch/dinner menus. It keeps many of its popular food options, including the do-it-yourself pancake maker.
Improved Overall Guest Experience – The new look and features of the lounge will make lounge visits more comfortable for the growing number of passengers utilizing it during their travels.
In addition to the newly updated D Concourse Lounge, the airline also completed an expansion project to its C Concourse Lounge. This project added 3,000 square feet to the space and 60 more seats. The main N Concourse lounge remains the largest, with over 15,800 square feet of space.
Alaska Airlines gives several lounge options for location convenience or finding an alternative if one lounge gets overcrowded. SeaTac has an underground loop train to access other terminals.
Getting Access to the SeaTac Alaska Lounge
Alaska Airlines lounges are one of the easiest to get into – one of the few airline-branded lounges that welcomes all travelers. Guests don't have to travel with Alaska Airlines to use the lounges. Here are ways you can get inside to see the revamped Alaska lounge.
Alaska Lounge Membership
Travelers can purchase a membership to access Alaska and partnering airline lounges. It's a two-tiered membership program: Alaska Lounge Members (starting at $500) and Alaska Lounge + Membership (starting at $550). Membership is also available for elite status members with Alaska MVP® Gold, Gold 75K, or Gold 100K. These members can access the lounge when traveling on any oneworld® airline or get a price discount.
Alaska Airlines First Class Ticketholders
Travelers who purchased a first-class ticket with cash or redeeming points for an award flight will receive complimentary access to the lounge. Note that getting a ticket upgrade using points or otherwise does not qualify for lounge entry.
You can get a one-way first-class flight from Seattle to Honolulu for only 40,000 miles. Signing up for the Alaska Airlines Visa Signature® card ($95 annual fee) has a welcome bonus of 50,000 miles to cover the cost of the award flight.
Use Citi AAdvantage Executive Card
Alaska and American Airlines partner to offer benefits across loyalty programs. The Citi® / AAdvantage® Executive World Elite Mastercard® ($450 annual fee) comes with a complimentary Admirals Club® membership, which gives access to Alaska Lounges.
The Alaska Lounge at SeaTac used to sell day passes for $60 per visit. However, this was discontinued due to limited lounge capacity. It's now only available at SFO, LAX, and JFK airports. Furthermore, travelers with Priority Pass no longer have access to any Alaska Lounges in SeaTac. It removed N Concourse lounge access recently; however still has The Club Lounge in Concourse A and South Satellite Building, along with restaurant options. Get up to 30% off your Priority Pass membership to check out these lounge alternatives.
Bottom Line
SeaTac's oldest Alaska Lounge now has the latest updates after a five-month-long renovation. It introduced a new look, amenities, and guest experience to the airline's major airport hub. Travelers with lounge access can visit during their daily hours, 5 am – 11 pm.
Alaska Airlines has plans for more lounge openings and renovations at other airports coming soon.