Get 25% More JetBlue Miles With AmEx Points Transfer Offer Through May 22
PointsCrowd is a community-supported platform. When you apply for a credit card, make an order, or otherwise interact with the advertisers through the links on this page we may earn an affiliate commission. This helps us maintain and develop the platform further at no cost to you.
The points transfer ratio between AmEx points and JetBlue TrueBlue miles just got even better thanks to a limited-time offer through American Express. JetBlue is one of American Express' many airline transfer partners and allows its members to exchange their points for TrueBlue miles for booking flights and other rewards with the airline.
The latest offer gives 25% more value for your points-to-miles transfer at a ratio of 1:1.25. So, for every 1,000 AmEx points you transfer, you'll get 1,250 TrueBlue miles. The standard transfer ratio is 1:1, so an extra 250 miles per 1,000 points transfer can go a long way in the skies when traveling with JetBlue. Here are a few trip ideas and how many AmEx points you must transfer to take advantage of them:
One-way Economy class flight between New York to London, UK for 41,700 TrueBlue miles —> Transfer 34,000 AmEx points and get 42,500 TrueBlue miles
One-way Economy class flight between Los Angeles to Cancun, Mexico for 8,800 TrueBlue miles —> Transfer 8,000 AmEx points and get 10,000 TrueBlue miles
One-way Economy class flight between Miami to San Francisco for 12,700 TrueBlue miles —> Transfer 11,000 AmEx points and get 13,750 TrueBlue miles
It's important to note that American Express only allows point conversions in increments of 1,000 points. So you can use any remaining TrueBlue points for additional rewards, such as Points Payback for JetBlue Plus card members, or combine them with points when booking additional flights.
Things to Know Before Transferring Points for Miles
In addition to the 1,000-point transfer increments, there are a few other details to keep in mind before deciding if it's the best time to transfer your AmEx points for TrueBlue miles.
Members have until May 22, 2023, to take advantage of the 1:1.25 points transfer offer. Points transferred after this date will revert to the standard 1:1 transfer rate.
All points transfers are irreversible. Once you transfer your AmEx points to your TrueBlue account, you cannot exchange them back. Be sure that you can use TrueBlue miles to book an award flight before exchanging them. Also, keep in mind the transfer time (up to 48 hours).
The minimum amount of AmEx points you can transfer is 1,000 points per transaction. The maximum number of points is capped at 999,000 AmEx points.
AmEx includes an Excise Tax Offset Fee per points transfer transaction. This fee applies when transferring points to any US-based airline. The fee rate is $0.0006 per point, with a max fee of $99. Members can select to charge this fee to their AmEx card or deduct the points equivalent.
Using Points with SkyTeam Alliance Partners
One of the biggest benefits of having TrueBlue miles is taking advantage of JetBlue's partnership with SkyTeam Alliance airlines. TrueBlue loyalty members can use their miles to book flights and other rewards on the 19 airlines included with the alliance that fly to more than 1,500 destinations globally. Some of the popular airlines that you can book flights on using TrueBlue miles include:
Delta Airlines
Air France/KLM
Aeroméxico
Virgin Atlantic
Korea Air
Air Europa
China Airlines
Kenya Airways
Loyalty Members can also redeem TrueBlue miles on Hawaiian Airlines, although it's not part of the SkyTeam Alliance Partners.
How to Transfer Points to Miles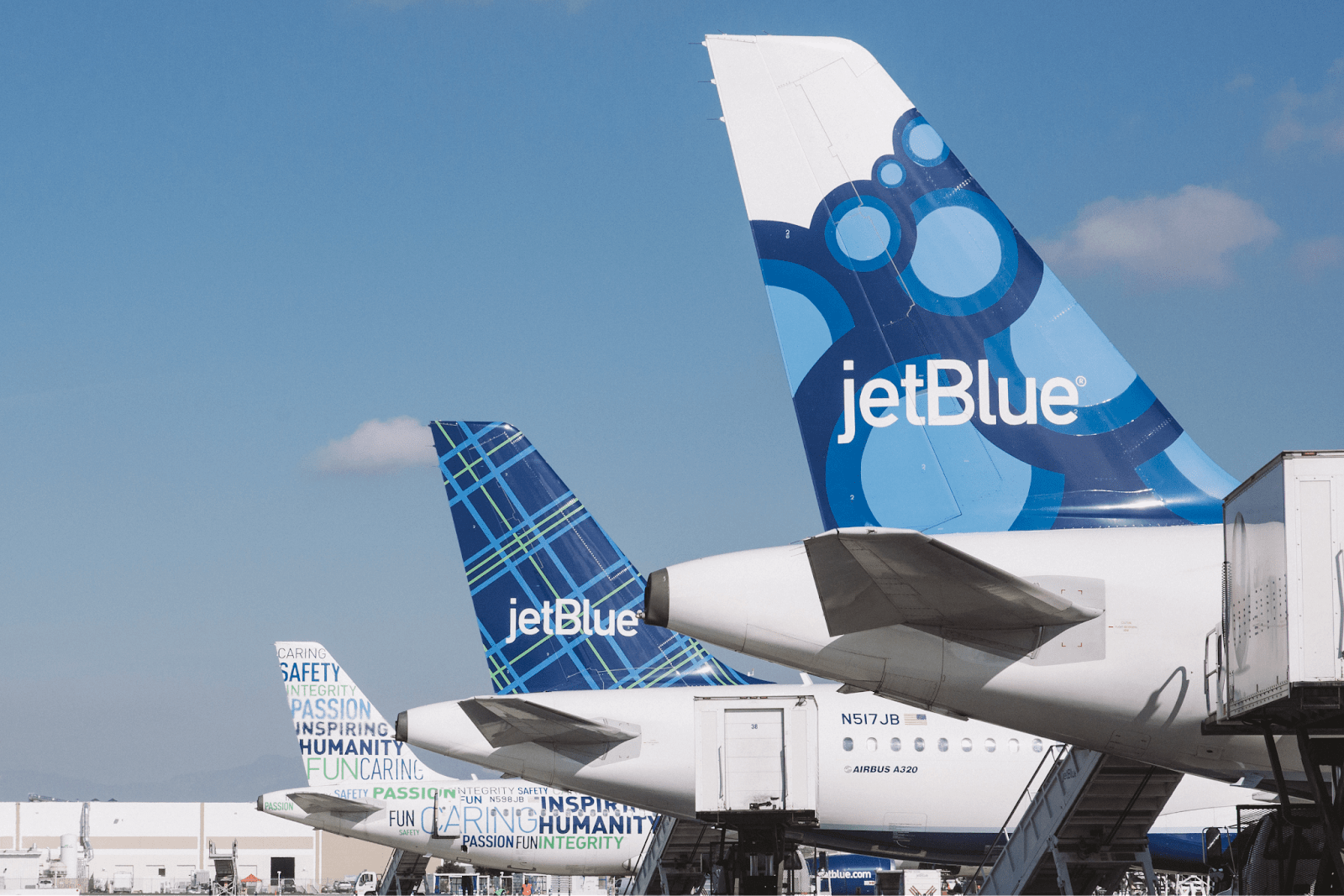 Ready to transfer your AmEx points for TrueBlue miles? Follow these steps to make your transfers before May 22 to receive the 25% points transfer bonus:
Log into your American Express account on www.americanexpress.com 
On the homepage, click 'Explore Rewards'
Select the 'Transfer Points' tab
Click 'View All' and browse for TrueBlue JetBlue
You will see the offer listed with the updated transfer ratio
If it's your first time transferring points, complete the steps to verify the AmEx account card you're transferring points from and input your TrueBlue membership details to link the account
Confirm the transfer points on the following summary screen and click 'Confirm & Transfer Points'
You will see the points reflected in your TrueBlue account within 48 hours (most transfers happen instantly)
Conclusion
The TrueBlue loyalty program is one of few airlines that does not have an expiration date on the miles you earn. Based on recent trends, a 25% points transfer bonus between AmEx and JetBlue is standard. Any opportunity to convert your points at a higher rate is recommended if you plan to travel on JetBlue or any of its partnering airlines.