Staycation to Vacation – Earn Marriott Bonvoy Points With Uber
PointsCrowd is a community-supported platform. When you apply for a credit card, make an order, or otherwise interact with the advertisers through the links on this page we may earn an affiliate commission. This helps us maintain and develop the platform further at no cost to you.
Ride and eat your way to more travel rewards thanks to the Marriott Bonvoy and Uber partnership. Now, those rides around town can help get you out of town. And your Friday night delivery routine can be the start of your next weekend vacation.
Earning Marriott Bonvoy Points With Uber
Marriott and Uber have partnered, allowing users to earn Marriott Bonvoy points every time they use the Uber or Uber Eats apps. By linking your Marriott Bonvoy account to your Uber accounts, you can earn 2-6 Marriott Bonvoy Points with each ride or food order.
Linking your Marriott Bonvoy account to your Uber account earns points on all premium Uber rides. Qualifying Premium Uber rides earn the following:
3 Marriott Bonvoy Points per dollar spent on Uber Comfort, Uber SUV, Uber XL, and Uber Black.
This offer is only valid for Uber rides in the US and excludes rides on Uber Pool or UberX. It also excludes tax, service charges, and tips.
You can also link your Marriott Bonvoy account to your Uber Eats and earn the following:
2 Marriott Bonvoy Points per dollar spent on all Uber Eats orders
6 Marriott Bonvoy Points per dollar spent on Uber Eats orders delivered to Marriott hotels and properties.
All Uber Eats orders must be within the US and excludes any taxes, service charges, or tips.
Redeeming Marriott Bonvoy Points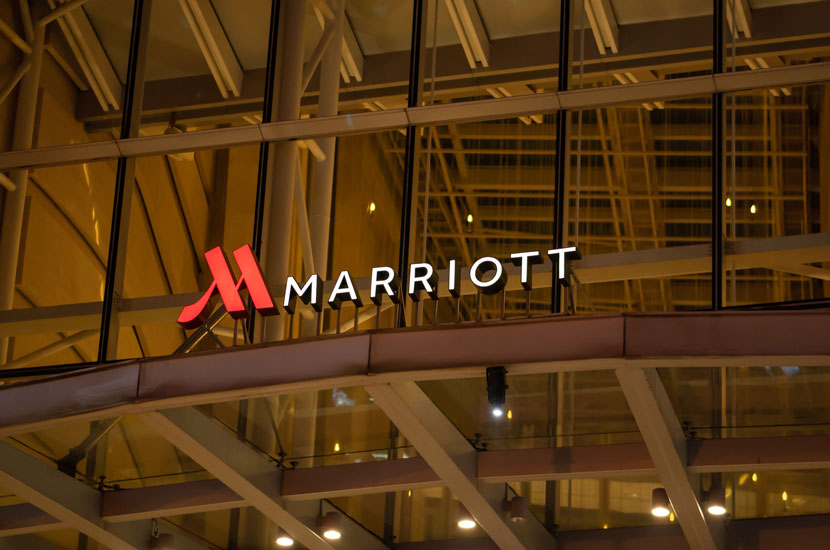 Connecting your Uber accounts to your Marriott Bonvoy account is a great way to accumulate points using your everyday activities. With ridesharing and delivery services becoming the norm in the US, especially in major cities, this partnership gives the bonus of travel when you use them.
Marriott Bonvoy Points can be redeemed for travel perks. Enjoy stays at more than 8,000 properties worldwide, room upgrades, tour activities, and rewards with airline or cruise partners. Points are also redeemable for Uber Gift Cards and Uber Eats Gift Cards, so you can continue using the services you love!
Maximizing Points with Credit Card Perks
Take advantage of special credit card perks to capitalize on points earned with this program (and save you money). Several credit cards offer Uber Cash credits, which are also eligible to earn Marriott Bonvoy Points when spent on qualifying rides.
These are the best credit cards to use for frequent Uber and Uber Eats users:
The Platinum Card® from American Express ($695 annual fee) – offers $200 Uber Cash credit annually. Also earns 1 point per Uber ride.
American Express® Gold Card ($250 annual fee) – offers $120 Uber Cash credit annually. Also earns 4x points on Uber Eats spending.
How to Link Your Marriott Bonvoy Account with Uber and Uber Eats
Before you begin earning Marriott Bonvoy Points with Uber, you must first link your accounts using the following steps:
Open the Uber app
Choose 'Settings' in the menu in the top-left corner
Tap 'Marriott Bonvoy' under the Rewards section
Tap 'Link Account'
Sign in with your Marriott Bonvoy account credentials. If you are not yet a member of Marriott Bonvoy, you can join for free here.
Wait for the confirmation screen and tap 'Got It'
Start riding and earning!
After connecting, the Rewards section in your settings will show that you've linked your Marriott Bonvoy account. If your Uber Eats account doesn't link automatically, you can complete the same steps via settings in the Uber Eats app. Once you've linked the accounts once, you're all set for all eligible rides and orders.
Now, you can start earning Marriott Bonvoy Points when you use Uber. Leave a reply below if you're already using Uber to earn Marriott Bonvoy Points.