Marriott Bonvoy Enhances its Ambassador Elite Status With Personalized Concierge Service
PointsCrowd is a community-supported platform. When you apply for a credit card, make an order, or otherwise interact with the advertisers through the links on this page we may earn an affiliate commission. This helps us maintain and develop the platform further at no cost to you.

Marriott's most loyal Bonvoy members will soon have personalized concierge service once again with the return of its ambassador program. It's been two years since Marriott eliminated an essential service from its long list of member benefits. However, the growing competition among hotel loyalty programs has reintroduced it as the top tier of the Marriott Bonvoy program.
The Ambassador Elite program originated with Starwood properties, which was added to the Bonvoy program after Marriott acquired the brand in 2016. It later removed the personal concierge service as of 2021 but announced its return in mid-2023.
Your Very Own Personal Concierge Service
The Personal Ambassador service was a highlight of the Ambassador Elite status level. It gave its most loyal members a personalized service accessible around the clock at any of its 8,500 properties worldwide—regardless of whether you stayed at its lowest-tier or luxury properties.
Thanks to its return, Bonvoy members can enjoy the full benefits of the Ambassador Elite Program—after all, they've earned it after meeting the high requirements to achieve the status.
The revamped Personal Ambassador Service will give each member a dedicated person to handle various requests, which include:
Booking trips
Changing reservations
Booking hotel services and amenities
Answering General questions about your account and status
Miscellaneous requests
Ambassador Elite members will be treated like VIPs with an ambassador who knows your name and travel habits. They will be reachable by phone or email.
Marriott's Top Tiers Just Got Higher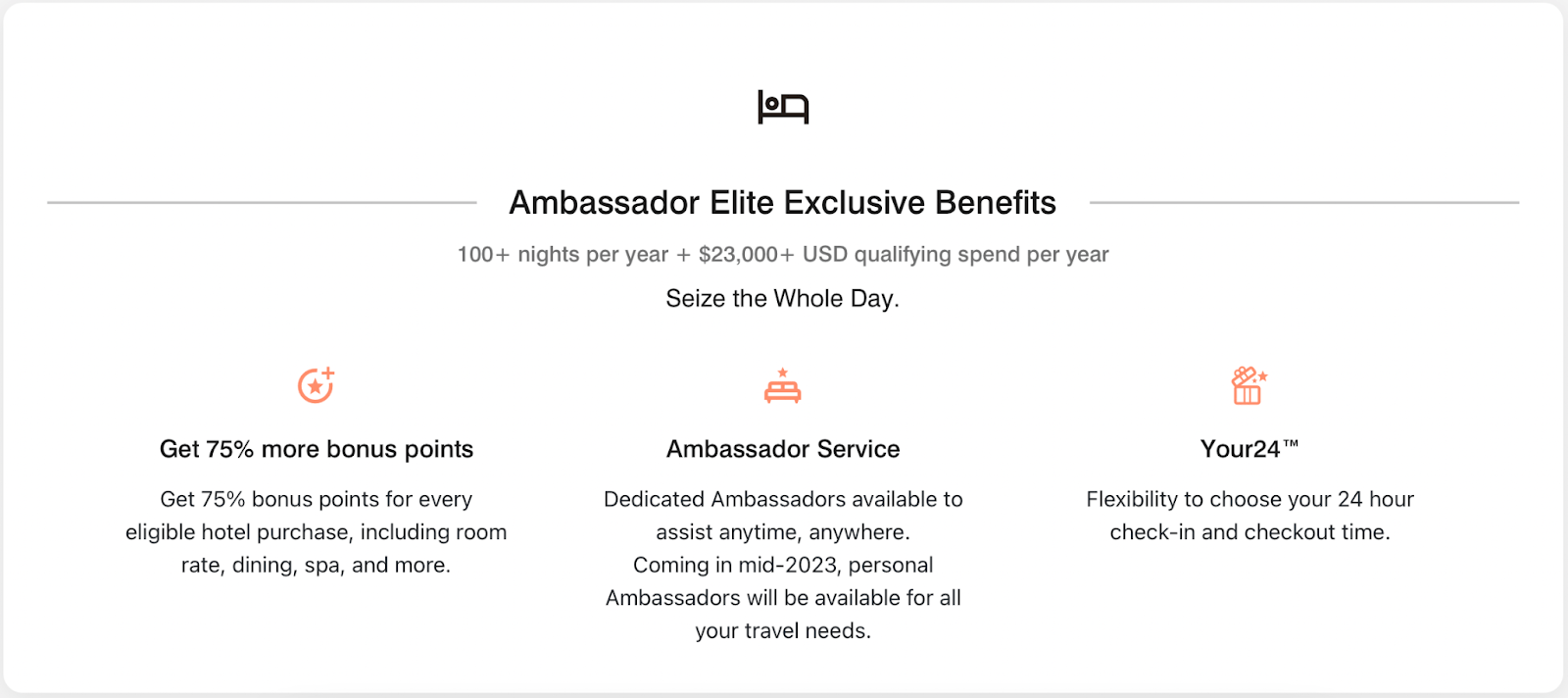 The Marriott Bonvoy Ambassador Program will come into effect in mid-2023, which is a tier above the current highest level of Titanium Elite. Members who reach this Ambassador level will benefit from all the features in Titanium Elite in addition to a host of other features already available on the Ambassador Elite level. It has the following benefits:
Ambassador Service (coming mid-2023)
Get 75% more bonus points on qualified hotel spending, including room bookings, dining, hotel spa services, and more.
Your24—flexible check-in and check-out at any time.
Popular features carried over from other levels include:
Lounge access with complimentary breakfast
Annual choice benefits for 5 Suite Night Awards or select gift options
Welcome gift on arrival
Complimentary United MileagePlus Premier Silver Status
Exclusive member rates
Travelers with Ambassador Elite Status will have priority over all other status tiers for room upgrades, service, and check-in/out times.
How to Get Ambassador Elite
Are you looking forward to having a personal ambassador whenever you stay with Marriott? For most, it's a high barrier to achieve, but definitely attainable for loyal and frequent travelers. Here's how you can reach the Ambassador Elite status:
Stay more than 100 nights at Marriott properties in one year
Spend over $23,000 USD qualified spending per year with Marriott
The biggest difference between Ambassador Elite status requirements compared to Marriott's other levels is the minimum spending requirement. The lower levels (Silver Elite, Gold Elite, Platinum Elite, and Titanium Elite) only have a minimum night stay requirement of up to 75 nights per year on Titanium Elite. Ambassador Elite status represents the most loyal status level since its members essentially stay nearly a third of the year in Marriott properties—and additional nights if you hope to take advantage of its perks.
Meet Spending Requirements With Marriott Bonvoy Credit Cards
Anyone staying 100+ nights with $23,000 in spending at Marriott will benefit significantly from using Marriott's co-branded credit cards. Your spending can have massive Bonvoy point earnings of up to 6x points for every dollar you spend on Marriott (138,000 Bonvoy Points after spending $23,000 on eligible 6x multiplier credit cards). Also, the spending requirements for Ambassador Elite will easily earn you welcome bonuses for new card sign-ups. If you're planning to go for the Ambassador Elite status, consider using these credit cards:
You do not need a Marriott Bonvoy credit card to get Ambassador Elite Status. However, with the spending requirements and additional perks available for cardholders, it offers even more benefits that you will already attain.
Is it worth the effort to get Ambassador Elite?
Reintroducing the Personal Ambassador service to this top-tier level significantly benefits Bonvoy members—especially when considering how much you have to stay at Marriott to get it. Having a dedicated person to manage your reservations across its properties can save lots of time during your travels.
Most members with Ambassador Elite status are likely business travelers who spend a large part of the year on the road. The personal ambassador service adds a special touch to make traveling and staying with Marriott much easier.
For travelers that don't fall into the category of frequent travelers, it's not much of a benefit to try to get the status just to try out the ambassador program. The high spend limit of $23,000 and 100 nights is more than most people can do within a year—making its perks that much more special to those who have it.