Midwest Family Vacations: 5 best ideas for a weekend getaway
PointsCrowd is a community-supported platform. When you apply for a credit card, make an order, or otherwise interact with the advertisers through the links on this page we may earn an affiliate commission. This helps us maintain and develop the platform further at no cost to you.
Welcome to the Midwest, a region brimming with charm, adventure, and endless possibilities for unforgettable family vacations. If you're seeking an escape that balances fun and affordability, you've come to the right place. From bustling cities to picturesque landscapes, the Midwest offers a treasure trove of hidden gems that cater to families with children of all ages.
Why the Midwest?
When it comes to Midwest family vacations, the region stands out as a remarkable destination for several compelling reasons. First and foremost, the Midwest boasts an abundance of family-friendly attractions and activities that will keep everyone entertained and create lasting memories. Whether you're exploring fascinating museums, embarking on outdoor adventures, or indulging in local cuisine, the Midwest has it all.
One of the key advantages of the Midwest as a family vacation destination is its affordability. With a wide range of budget-friendly options to suit various budgets, families can enjoy a fantastic getaway without breaking the bank. From reasonably priced accommodations to affordable dining and entertainment options, the Midwest provides a perfect balance between value and enjoyment.
Additionally, the Midwest's central location makes it ideal for weekend trips in the Midwest or family road trip ideas. Its well-connected highways and airports allow for convenient travel, saving you precious time and maximizing the moments you spend with your loved ones.
Lastly, the Midwest's warm and welcoming hospitality adds to its allure as a family vacation hotspot. Locals embrace a friendly and relaxed attitude, making visitors feel right at home. Whether you're seeking recommendations, directions, or simply a warm smile, the Midwest's genuine hospitality will make your family vacation experience even more delightful.
In this article, we will delve into the top family vacation destinations in the Midwest, highlighting their unique attractions, family-friendly activities, and budget-friendly offerings.
So, gather your loved ones, pack your bags, and get ready to embark on an exciting journey through the heartland. The Midwest awaits, ready to delight you with its endless wonders and create cherished memories for the whole family. Let's dive into the best family vacation destinations that the Midwest has to offer!
Weekend trips from Kansas City (Missouri) for families
Kansas City offers a diverse range of family vacation options, catering to various interests. For outdoor adventure enthusiasts, there are ample opportunities to explore the city's beautiful parks, such as Swope Park and Loose Park, which offer hiking trails, picnic spots, and even a zoo. The city is also home to Worlds of Fun, an expansive amusement park with thrilling rides and water slides, perfect for a fun-filled family day.
If your family loves marine life, be sure to visit SEA LIFE Kansas City Aquarium. Here, you can embark on an underwater adventure, discovering a mesmerizing array of sea creatures and enjoying interactive exhibits that educate and entertain.
Another must-visit for LEGO® lovers is LEGOLAND® Discovery Center Kansas City. This indoor attraction offers an immersive LEGO experience with rides, building activities, and even a LEGO-themed 4D cinema.
For sports enthusiasts, attending a Royals baseball game at Kauffman Stadium is an unforgettable experience. Cheer on the home team as you indulge in the excitement of America's favorite pastime, surrounded by a vibrant atmosphere that is sure to captivate the whole family.
Additionally, Kansas City boasts cultural attractions like the Nelson-Atkins Museum of Art and the Science City at Union Station, providing educational and engaging experiences for all ages.
With a blend of outdoor adventures, amusement parks, fascinating museums, and live sports events, Kansas City offers a diverse range of family vacation experiences that will leave lasting memories for everyone.
Weekend getaways from Chicago (Illinois) for families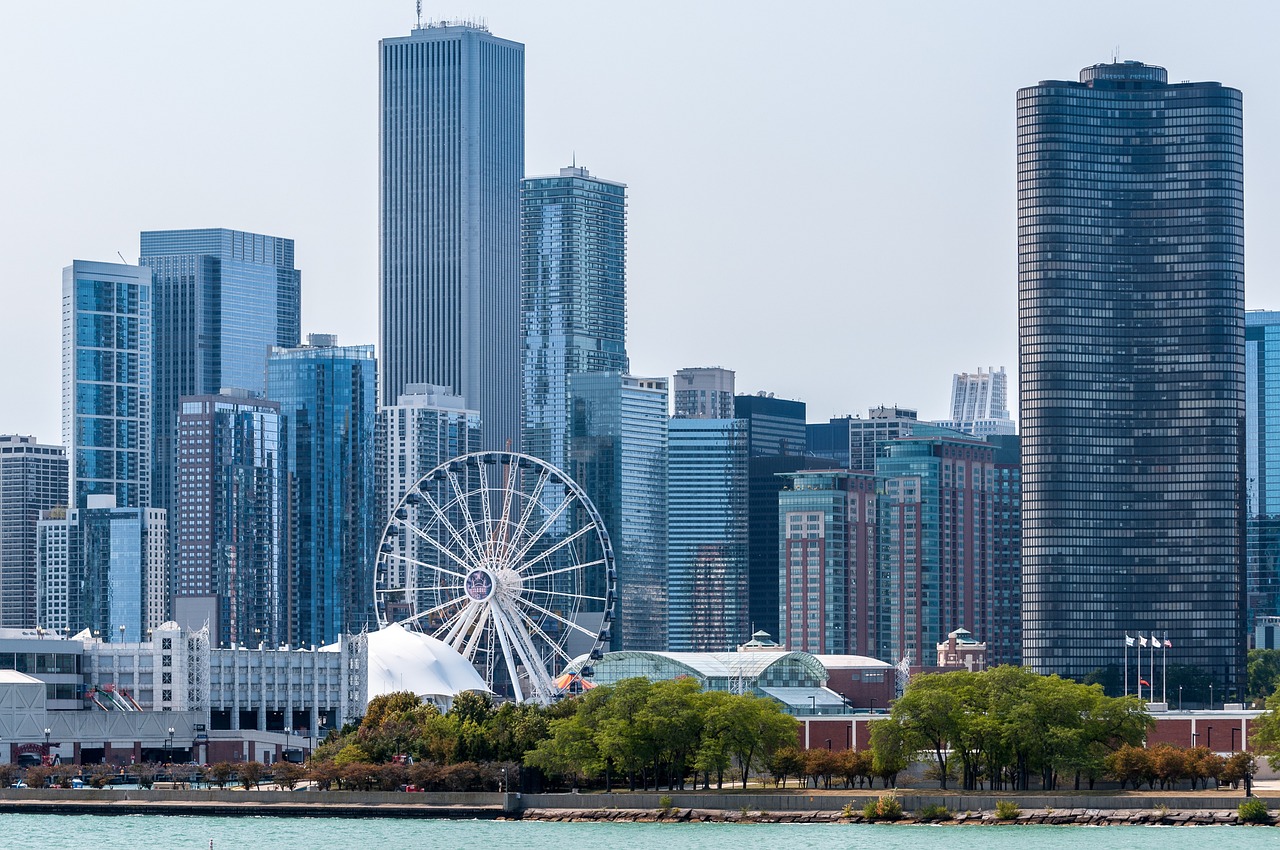 As one of the Midwest's largest cities, Chicago is a bustling metropolis that offers a multitude of family vacation possibilities. Whether you're visiting Chicago with toddlers, school-age children, or teens, you'll find plenty of places to keep the whole family entertained.
Families can enjoy outdoor adventures along the beautiful Lake Michigan shoreline, where you can relax on sandy beaches or take part in water sports. Millennium Park, with its iconic Cloud Gate sculpture, is a great spot for family picnics and outdoor concerts.
Let your toddlers burn off some energy at Maggie Daley Park, a vibrant outdoor playground located in the heart of downtown Chicago. The park features imaginative play structures, climbing walls, splash pads, and a winter ice skating ribbon during colder months.
Animal enthusiasts will be delighted to explore the Lincoln Park Zoo, one of the oldest zoos in the country. This free-admission zoo provides a wonderful opportunity for families to get up close and personal with a diverse range of animals from around the world.
Catch a live performance at the Chicago Children's Theatre, which offers engaging and age-appropriate shows for toddlers. The interactive and imaginative productions will captivate their young minds and spark their creativity.
Moreover, Chicago is renowned for its cultural attractions, including world-class museums like the Chicago Children's Museum, Field Museum, Shedd Aquarium, and Adler Planetarium, providing enriching experiences for families.
Take a trip to the Peggy Notebaert Nature Museum, where your toddlers can explore hands-on exhibits and learn about nature and wildlife. They can interact with animals, discover vibrant butterfly exhibits, and engage in sensory play activities.
Using resources such as chicagoonthecheap.com can be a fantastic way to find budget-friendly options and discounts for attractions and museums in Chicago.
For amusement park enthusiasts, Navy Pier offers a Ferris wheel, carnival rides, and entertaining shows.
Hocking Hills, Ohio
If you're seeking a nature-filled family vacation, Hocking Hills in Ohio is a perfect destination. This scenic region is known for its breathtaking landscapes, including stunning waterfalls, towering cliffs, and lush forests.
When it comes to outdoor adventures, Hocking Hills has plenty to offer. Families can embark on hiking trails, such as Old Man's Cave and Ash Cave, which lead to picturesque vistas and hidden wonders.
Hocking Hills also offers opportunities for canoeing, canopy ziplining, and horseback riding, adding adventure to your nature escape.
Have fun searching for treasures at the gem mining station and enjoy communicating with animals in the petting zoo.
Whether you're exploring the captivating trails, participating in exciting outdoor activities, or enjoying the indoor kid activities, Hocking Hills offers a perfect blend of nature-filled adventures and engaging experiences for families.
Keystone, South Dakota – the best place for a family vacation
Keystone, located near the iconic Mount Rushmore National Memorial, is an excellent family vacation destination that combines history, natural beauty, and adventure. Witnessing the colossal presidential sculptures at Mount Rushmore is an awe-inspiring experience for visitors of all ages. Nearby, the Black Hills National Forest offers outdoor adventures like hiking, biking, and wildlife spotting. Families can also explore caves, visit wildlife parks (Custer State Park and Badlands National Park), and take scenic drives through the region's captivating landscapes. Keystone itself offers family-friendly attractions, including museums, mine tours, and Old West-themed entertainment.
One of the must-visit attractions in the area is the Black Hills Central Railroad. Take a nostalgic journey on a vintage steam train and traverse the scenic landscapes of the Black Hills. As you chug along the tracks, you'll be treated to breathtaking views of pine-covered mountains, meandering streams, and picturesque valleys. The Black Hills Central Railroad offers various themed train rides, including the popular 1880 Train, which takes you through the historic gold mining town of Hill City. It's an enchanting experience that allows families to step back in time and create memories that will last a lifetime.
For a unique and educational experience, visit the National Presidential Wax Museum. Learn about the nation's history through interactive exhibits and informative displays, providing an engaging experience for visitors of all ages.
Another intriguing attraction near Keystone is the Cosmos Mystery Area. Step into a world of optical illusions and mind-boggling phenomena. Experience gravity-defying challenges, such as walking on walls and water appearing to flow uphill. It's a fascinating and fun-filled adventure that will leave the whole family questioning the laws of physics.
Whether you're seeking outdoor adventures, historical insights, or mind-bending mysteries, Keystone has something to captivate every family member and create cherished memories.
Branson (Missouri) getaways for families
Branson is renowned for its family-friendly atmosphere and lively entertainment scene. Nestled in the Ozark Mountains, this vibrant city offers a mix of thrilling outdoor adventures and world-class entertainment options.
In addition to the thrilling outdoor activities and amusement parks, Branson is home to several unique attractions that will captivate the whole family. For toy enthusiasts, the World's Largest Toy Museum is a must-visit. Explore multiple buildings filled with a vast collection of toys from different eras, including classic toys, action figures, dolls, and more. It's a nostalgic journey that will delight both kids and adults.
For an unforgettable animal encounter, head to Branson's Promised Land Zoo. This family-owned zoo offers a hands-on experience, allowing visitors to feed and interact with a variety of animals. From giraffes and kangaroos to lemurs and sloths, the zoo offers a diverse range of wildlife encounters that will leave a lasting impression.
The Hollywood Wax Museum in Branson brings the glitz and glamour of Hollywood to the heart of the Midwest. Pose for photos with incredibly lifelike wax figures of your favorite celebrities, from movie stars to pop icons. It's a fun and interactive experience that allows you to immerse yourself in the world of fame and entertainment.
Step back in time at the Titanic Museum, an impressive replica of the ill-fated ship. Explore interactive exhibits, artifacts, and even a full-scale replica of the Grand Staircase. Learn about the passengers' stories and gain a deeper understanding of the tragic event. It's an educational and immersive experience that appeals to visitors of all ages.
For a mesmerizing encounter with nature, visit the Butterfly Palace & Rainforest Adventure. Walk through lush gardens and observe thousands of vibrant butterflies fluttering around you. Discover exotic plants, encounter fascinating creatures like turtles and frogs, and learn about the delicate ecosystem of the rainforest. It's a peaceful and enchanting experience that will leave you in awe.
For nature enthusiasts, a visit to Dogwood Canyon Nature Park is a must. This sprawling park offers stunning natural beauty with its waterfalls, streams, and scenic walking trails. Families can explore the park on foot, by bike, or even on a wildlife tram tour, encountering native wildlife and immersing themselves in the tranquil surroundings.
Fritz's Adventure is an indoor adventure park that combines physical challenges, interactive activities, and adrenaline-pumping thrills. From climbing walls and ropes courses to underground tunnels and slides, Fritz's Adventure provides a safe and exciting environment for families to unleash their sense of adventure and engage in active play.
Families can enjoy water activities on Table Rock Lake, go hiking or biking in the surrounding mountains, or visit Silver Dollar City, an acclaimed amusement park with thrilling rides and live shows. Branson's numerous theaters showcase a variety of family-oriented performances, including comedy, magic, and music shows. With its lively atmosphere and diverse attractions, Branson ensures a memorable and entertaining family vacation.
Remember, a family vacation can be enjoyable and memorable without having to spend a fortune. By being proactive in finding cost-saving options and prioritizing budget-friendly choices, you can create wonderful experiences while staying within your means.
Tips for families on a budget to help save on accommodation, transportation and entertainment
1. Accommodation:
Consider alternative accommodations: Look beyond traditional hotels and explore options like vacation rentals, hostels, or camping grounds. These can often be more affordable and provide unique experiences.
Book in advance: Plan your trip well in advance and take advantage of early booking discounts or special promotions offered by accommodations.
Look for budget-friendly amenities: Seek accommodations that offer complimentary breakfast, kitchenettes, or laundry facilities. This way, you can save money on meals and reduce laundry expenses.
2. Transportation:
Opt for off-peak travel: Travel during non-peak seasons or on weekdays when flights, trains, and hotels tend to be more affordable.
Consider road trips: If feasible, traveling by car can be a cost-effective option, especially for families. It allows you to save on airfare and gives you flexibility in terms of stops and exploration.
Use public transportation: In urban areas, utilize public transportation systems such as buses or trains, which are often cheaper than renting a car or taking taxis.
3. Entertainment:
Research free or low-cost attractions: Look for free or low-cost activities in the destination you're visiting. Many cities have parks, museums, festivals, and cultural events that offer free or discounted admission.
Take advantage of city passes or attraction bundles: Some destinations offer city passes or attraction bundles that provide discounted access to multiple attractions. These can be a great way to save money while exploring various places.
Pack your own snacks and drinks: Instead of buying expensive snacks and drinks at attractions, pack your own. This can significantly cut down on food expenses while out and about.
Final thoughts
These destinations exemplify the range of family vacation options available in the Midwest, from outdoor adventures in scenic landscapes to amusement parks, cultural attractions, and beachfront experiences. Whether you're seeking adrenaline-pumping thrills, educational encounters, or tranquil natural retreats, the Midwest has something to offer every family looking for an unforgettable and budget-friendly vacation.
We would love to hear about your favorite budget-friendly family vacation tips or any additional suggestions you have for saving money while traveling. Leave a comment below and share your insights with us!