Get Once-in-a-Lifetime Experiences for Just 1 Marriott Bonvoy Point
PointsCrowd is a community-supported platform. When you apply for a credit card, make an order, or otherwise interact with the advertisers through the links on this page we may earn an affiliate commission. This helps us maintain and develop the platform further at no cost to you.

Do you know how much one Marriott Bonvoy point is worth? How about a seat on the famous 'Hot Ones' web series tasting hot wings with host Sean Evans? Or how about spending time with Trinity Rodman, the US Women's Soccer team star player? Or even sipping unreleased mezcal with Dos Hombres brand founders Aaron Paul and Bryan Cranston?
That's right, some of Marriott's most unique experiences can be yours for just one point in a new 'One Point Moment Drops' by Marriott Bonvoy. Finally, a Marriott Bonvoy reward almost anyone can get—as long as you have a bit of luck when these experiences become available.
Marriott Bonvoy One Point Moment Drops
Marriott Bonvoy Moments has been around since 2018 and provides loyalty members with exclusive experiences ranging from hanging with celebrities, attending exclusive events, VIP concert tickets, special trips, immersive cultural experiences, lifestyle activities, and more. In a Marriott press release this week, it announced the 'One Point Moment Drops' campaign to make its once-in-a-lifetime moments available for only one Bonvoy point.
This unprecedented campaign brings new value to Bonvoy Points. Jackie McAllister, Vice President of Marriott Bonvoy Brand & Moments Marketing, states, "Now you can turn just a single point into an unforgettable memory for the first time ever. We are putting together the ultimate collection of experiences with these One Point Moment Drops, and we can't wait to give our members – whether they have one point or a million points – serious bragging rights."
Marriott provided a sneak peek at the upcoming drops:
Sip Dos Hombres' latest, unreleased mezcal alongside founders Aaron Paul and Bryan Cranston
Hang with US Women's Soccer Star Trinity Rodman
Sit (or cry, maybe?!) in the "Hot Ones" seat with host Sean Evans
Uncover a true-crime mystery with Ashley Flowers and Brit Prawat of the hit podcast Crime Junkie
So, what's the catch? You have to be one of the first members to claim the drop when they're released.
How to Get The Drops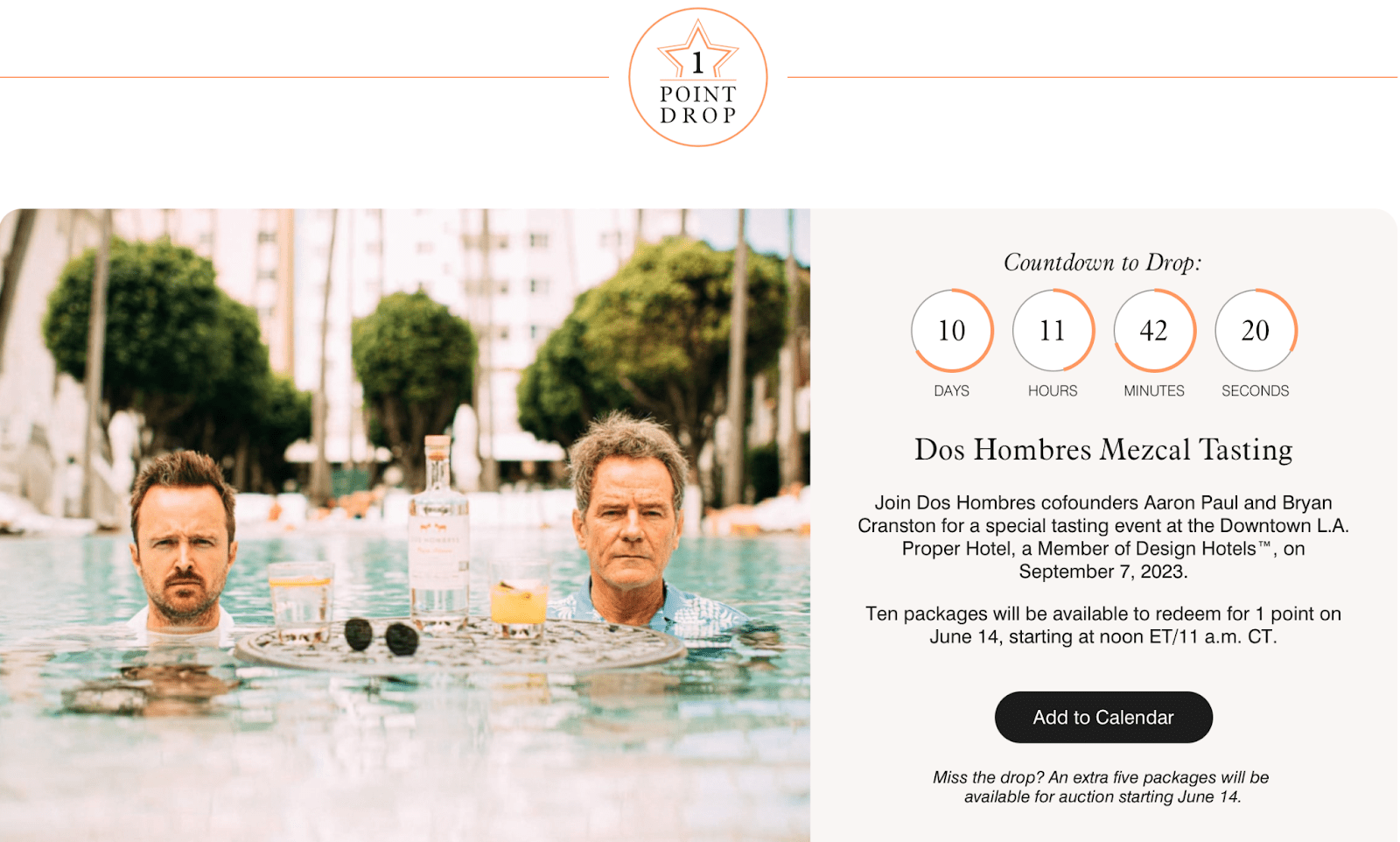 The One Point Moment Drops are only for Bonvoy members. It's on a first-come, first-served basis—and with more than 160 million Bonvoy members worldwide, you'll have to act fast if you want to be a part of the experience. Here's how you can be one of the first to get the drop:
See the latest drop details available on the One Point Moment Drop page here
Make sure you're signed in to your Marriott Bonvoy account
Redeem when the countdown expires
Plan ahead by following Marriott Bonvoy Instagram and TikTok accounts to see upcoming moments drops. The landing page also allows you to add the event to your calendar to increase your chances of being among the first to redeem it once available.
Each moment detail page includes information about the experience, a countdown timer to the drop, and how many packages will be available.
More Ways to Experience Marriott Bonvoy Moments
The One Point Moment Drops are specially curated for Bonvoy members. However, members have plenty of other activities available with Marriott Bonvoy Moments to redeem with points. Only selected moments will be available for only one point. Other ways to redeem moments include:
Auction
Fixed-price experiences
If you miss a chance to claim a drop for one Bonvoy point, there's still a way to win it. Marriott will include a few packages of the same experience available for auction to its members. Auction dates are displayed on the drops details page, which begins at a later date.
Auctions work through live bids using your Marriott Bonvoy points. Whoever bids the highest will get the experience for that price.
Alternatively, fixed-price experiences are the easiest to get. Browse the collection of Moments and redeem your points to claim.
Ways to Get Marriott Bonvoy Points
Now is the best time to earn Bonvoy points to get ready for the next Moment drop. Luckily, you only need one point to win, and there are plenty of ways to earn it.
Marriott Bonvoy credit cardholders can easily earn points on everyday spending:
If you do not have a Marriott credit card, there are other ways to get points, including:
Book a stay at a Marriott property and earn 10 points per dollar spent on your reservation.
Link Your Marriott and Uber accounts for 2-6x points per dollar on Uber/Uber Eats orders
Buy Marriott Bonvoy Points (minimum purchase of 1,000 points for $12.50)
Bottom Line
Marriott Bonvoy Moments are one of the best ways to use your Bonvoy points to get access to unforgettable experiences. The "One Point Drop Moments" creates a new way for all loyal members to have a chance at them. Be sure to check the drops page often or follow Marriott Bonvoy on social media to give yourself a good chance at securing one of the Moments drops.