Stay 3 Nights and Earn 2 Free at Wyndham Hotels
PointsCrowd is a community-supported platform. When you apply for a credit card, make an order, or otherwise interact with the advertisers through the links on this page we may earn an affiliate commission. This helps us maintain and develop the platform further at no cost to you.
Traveling abroad soon? Book your stays at Wyndham hotels, and you could wake up 15,000 bonus Wyndham points richer! A few nights at Wyndham Hotels can equal a couple of extra nights complimentary of Wyndham.
Get 15,000 bonus Wyndham points when staying a total of three nights at select Wyndham properties. These points can be redeemed for up to two free nights at Wyndham hotels.
Here's what you need to know about the bonus points offer and how you can get the best value for the points.
Stay and Earn with Wyndham
Wyndham is a global hotel chain with more than 9,000 properties around the world. While its largest market is the US, with nearly two-thirds of its properties, this promotion targets travelers staying at Wyndham's international properties. Stays at participating Wyndham properties in the following countries qualify towards earning the 15,000 bonus points:
Europe
Middle East
Africa
Eurasia
There are more than 95 million members of the award-winning Wyndham Rewards loyalty program worldwide. Members who register for this latest promotion can start staying their way to Wyndham bonus points.
Stay any three nights until September 30, 2023, to earn the 15,000 Wyndham points. The three nights can be consecutive night stays, different dates throughout the promotional period, or at different Wyndham properties.
Redeem Wyndham Points For Free Nights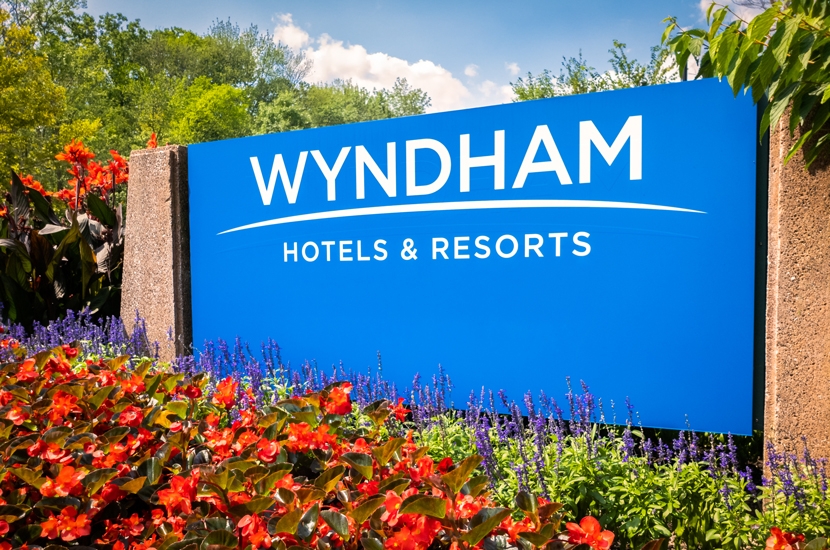 Wyndham Rewards points offer perks allowing travelers to experience more of Wyndham properties. So, after meeting the three-night minimum stay threshold, redeem those bonus points for free and discounted stays at a property of your choice.
Members can enjoy free stays at Wyndham properties around the world through the go free® rewards. The simplified rewards tier breakdown offers free night stays at the following:
7,500 points – one night stay in low-tier hotels (Super 8, Days Inn, La Quinta Inn, Travelodge)
15,000 points – one night stay in mid-tier hotels (Microtel Inn & Suites, Wingate, Ramada, Baymont)
30,000 points – one night stay in high-tier hotels (Trademark Collection by Wyndham, Wyndham Grand Resort & Spa, Hawthorn Suites, Wyndham Garden)
The 15,000 bonus points can be redeemed for two one-night stays in low-tier hotel properties or one night stay in a mid-tier hotel. Alternatively, save the points to use later toward one of the high-tier properties. Note that only stays at qualifying hotels in the countries listed above can earn the bonus points, but the points can be redeemed at any Wyndham property worldwide.
Which free night redemption gets the best value?
While the 15,000 bonus points can earn you up to two free nights at Wyndham hotels, the low-tier properties are better suited for convenience than amenities. Wyndham has many higher quality hotels and even the Trademark Collection with unique properties worldwide. The large points bonus gets even more valuable when redeemed for a free night at a mid-tier.
Want to spread your bonus Wyndham rewards points even further? The go fast® rewards program features point discounts on rooms. Members can redeem points at the following amounts to get discounts applied to their hotel reservations:
1,500 points
3,000 points
6,000 points
How to Register for the 15,000 Wyndham Bonus Points Promo
Members can earn 15,000 bonus points for reservations booked by April 30, 2023, and three nights completed as late as September 30, 2023. The bonus points are rewarded 2-4 weeks after the third stay—so members can earn and use the bonus points shortly after finishing the promotion requirements.
Here's how you can register to start booking your stays toward the points bonus:
Visit the offer page and sign-in to your Wyndham Rewards account by April 30.
Scroll to the 'How to Earn Your Free Nights' section and click 'register.'
Book hotel stays directly through Wyndham to earn credit for each stay
Final Thoughts
Travelers in the targeted international markets have the best opportunity to get the most value from the bonus points offer. The 15,000 bonus points offer can get the convenience of two nights or add them to your account for even better rewards later.