Special offer from Air Canada: Earn 3X points per flight to sunny destinations or up to 25k bonus points to New Zealand
PointsCrowd is a community-supported platform. When you apply for a credit card, make an order, or otherwise interact with the advertisers through the links on this page we may earn an affiliate commission. This helps us maintain and develop the platform further at no cost to you.
Air Canada Aeroplan has introduced exciting promotions for its members, offering the opportunity to earn bonus points on flights to specific destinations. Whether you're planning a trip to sunny North American destinations or considering a journey to New Zealand, these promotions provide a fantastic chance to boost your Aeroplan points balance.
Part 1: Earn Up to 3X Points on Sun Destinations in North America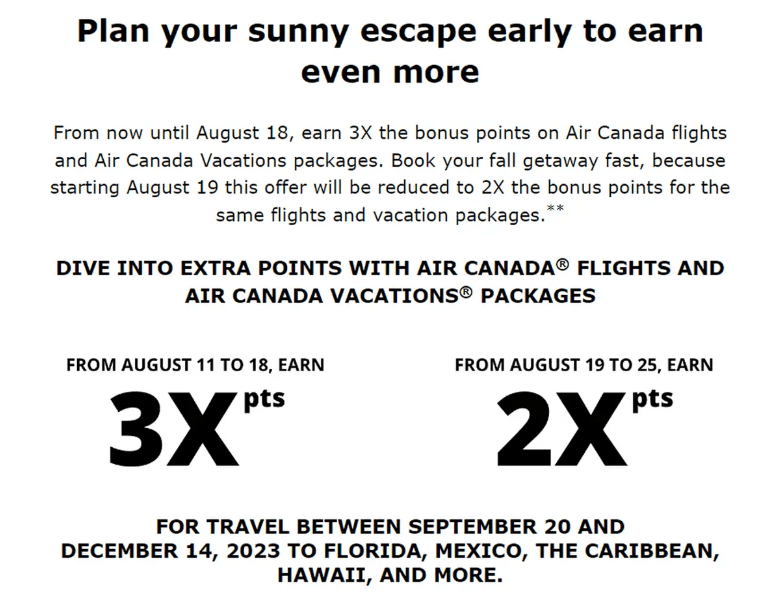 Air Canada's "Sun" Destination Promotion offers Aeroplan members the chance to earn up to 3X points on flights and vacation packages to various destinations in North America. This limited-time offer requires prompt action, so seize the opportunity while you can.
1.1 Booking Details and Eligibility:
The promotion period for the Sun Destination offer spans August 2023. Members must book flights or vacation packages before August 18 to earn 3X points or before August 25 to earn 2X points. Valid travel dates fall between September 20 and December 14, 2023.
1.2 Eligible Destinations:
The promotion covers an extensive list of "Sun" destinations across North America, including popular spots like Cancun, Miami, Honolulu, and more. Vacation packages must include at least one night at a hotel and round-trip airfare to qualify.
Eligible SUN Destinations:

Antigua, Aruba, Belize City, Bermuda, Bridgetown, Cancun, Coconut Bay, Cozumel, Curacao, Fort De France, Fort Lauderdale, Fort Myers, George Town, Grand Cayman, Grenada, Holguin, Honolulu/Oahu, Huatulco, Kahului/ Maui, Kingston, Kona/Hawaii, La Romana, Las Vegas, Los Angeles, Liberia, Mexico City, Miami, Montego Bay, Monterrey, Nassau, New Orleans, Orlando, Palm Springs, Panama City, Phoenix, Pointe‐ÀPitre, Providenciales, Port Plata, Port Vallarta, Punta Cana, Sacramento, Samana, San Diego, San Francisco, San Jose, San Jose Del Cabo, San Juan, Santa Ana/Orange County, Santa Clara, St. Louis, MO Kitts, St. Louis Lucia‐Old Fort, St. Lucia‐Old Fort St. Martin, St. Louis Vincent, Sarasota/Bradenton, Tampa, Wardrobe, West Palm Beach, Ixtapa/Zihuatanejo.
The following **Eligible Sun destinations are available only when booked with an Air  Canada airline Vacations package: Cayo Coco, Cozumel, Holguin, Huatulco, La Romana, Samana, Varadero.
1.3 Registration and Exclusivity:
Participation in this promotion requires registration, and it's important to note that only members who receive the promotional email are eligible to register. Check your inbox for the offer and register promptly to capitalize on the bonus points.
1.4 Combining Offers:
While the promotion cannot be combined with other offers, there's a separate promotion offering up to a 35% discount on Air Canada vacations to the same destinations. Though the travel dates slightly differ, it's worth considering if you're seeking both discounts and bonus points.
Part 2: Earn Up to 25,000 Bonus Points on Flights to New Zealand
For travelers with aspirations of visiting New Zealand, Air Canada's enticing promotion offers the chance to earn significant bonus points on flights.
2.1 Eligibility and Travel Period:
This promotion applies to round-trip flights or two one-way flights between Canada and New Zealand. Travel dates must fall between October 29, 2023, and March 27, 2024.
2.2 Bonus Points Breakdown:
Economy fares qualify for 10,000 bonus points, while business-class and premium fares are rewarded with an impressive 25,000 bonus points.
2.3 Departure Points:
The departing airport must be in Canada. Although the terms do not explicitly state it, there's potential to earn points flying from the U.S. via Vancouver to New Zealand.
2.4 Registration and Booking:
To benefit from this offer, ensure you're an Aeroplan member and register before August 29, 2023. Booking your flights through the Air Canada website within the specified timeframe is crucial to qualifying for the bonus points.
Conclusion
Air Canada's recent promotions provide exciting opportunities for Aeroplan members to earn bonus points on flights to both North American sun destinations and New Zealand. By understanding the eligibility criteria, registration process, and travel periods, savvy travelers can maximize their rewards and embark on memorable journeys while reaping the benefits of these lucrative offers. Don't miss out—register and book your flights promptly to take advantage of these enticing promotions.