Radisson Rewards to Choice Privilege Points 2:1 Transfer
PointsCrowd is a community-supported platform. When you apply for a credit card, make an order, or otherwise interact with the advertisers through the links on this page we may earn an affiliate commission. This helps us maintain and develop the platform further at no cost to you.
Radisson Rewards becomes the latest points exchange partner with Choice Hotels, with a 2:1 transfer rate between programs. The two-way transfer program lets members enjoy the benefits of the other. However, is it worth converting your Radisson Rewards to Choice Privilege points, or are benefits with Radisson more beneficial?
See how this latest points exchange system bridges the gap between these hotel brands and how members can take advantage of the offer.
Enjoy Benefits with Choice Rewards
Choice Hotels acquired Radisson Hotels America in August 2022. The merger boosted the number of brands under Choice Hotels from 13 to 22 hotel brands—Radisson brands will remain and operate alongside Choice Hotels.
While the merger instantly added approximately 67,000 rooms to the Choice Hotels portfolio, Radisson Rewards members were delayed from the effects of the merger—until now. Choice Hotels announced at the end of January 2023 that Choice Privilege Members and Radisson Rewards members can now transfer points between programs and enjoy the benefits of each. The exchange rate is:
1 Choice Privilege Point for 2 Radisson Americas Points (transfer available both ways).
Now Radisson Rewards members can reap the benefits of the Choice Rewards program, and vice-versa. Here are a couple of advantages of the Choice Rewards Program:
Reward Nights – redeem Choice Privilege Points for stays at more than 7,100 hotels around the world, with rooms starting at 8,000 points.
Points Plus Cash – Pay less out of pocket for your stay when combining points and cash during booking—minimum 6,000 points.
Exchange between other transfer partners – Choice Hotels partners with airlines and cruises for transferring points or redeeming exclusive offers. For example, you can exchange 5,000 Choice Privilege Points for 1,000 Alaska Airline Miles or 1,000 United MileagePlus Miles.
Limitations to Points Exchange
The points transfer is now active for loyalty members to transfer points between programs at any time. However, you should think ahead about your travel plans because there are a few limits on transferring points. Here are some restrictions to keep in mind:
Exchange up to 250,000 Choice Privilege Points or 500,000 Radisson Rewards Points per transaction
Members are allowed only 12 transactions each year
Can only exchange in quantities of 1,000 Radisson Rewards Points or 500 Choice Privilege Points (also, minimum exchange amounts)
Transfer may take up to 24 hours to complete
The points exchange amount limits are set high to allow most members to use points in either program as needed. However, the transfer time should be considered if you need to make a last-minute booking.
Is The Transfer Rate Worth It?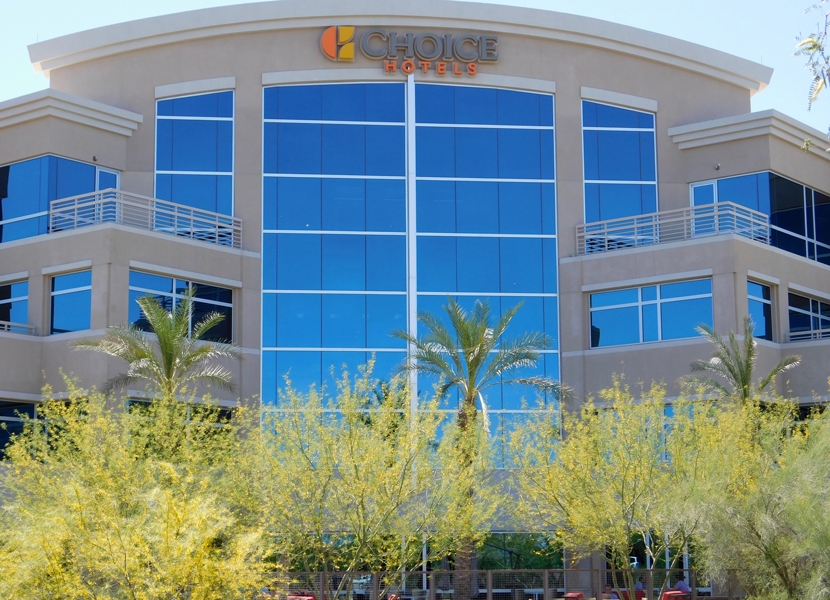 Even after the merger, Choice Hotels and Radisson Hotels maintain different loyalty rewards programs. It puts the decision-making in the hands of members to decide whether or not to exchange their points. That's good news since it gives flexibility when redeeming points, but the downside is that you could miss out on value due to the 2:1 exchange rate.
Comparable to the Choice Privileges benefits, Radisson Rewards points can be redeemed for award night stays at Radisson brand hotels, Park Plaza, Country Inn & Suites, Prizeotel, and other properties in its portfolio.
In addition, Radisson Rewards Points can be redeemed for miles on airline partners, including Air France/KLM, British Airways, and SAS Airlines, at rates starting at 2,000 points per mile. Or travel perks like Priority Pass Lounge access for 125,000 points and upgrades during your Radisson Hotel stay.
The decision to transfer points or keep them in your current loyalty program comes down to which hotel or airline brands you use while traveling. It's worth converting only necessary points to get benefits as needed.
How to Exchange Points
Ready to unlock even more travel rewards around the world between these two brands? Start today transferring points between loyalty programs and start redeeming for more rewards. Here's how you can exchange points.
Visit Choice Hotels points transfer page here
Log in to your Choice Privileges account
Click Exchange Points
Complete two-step authentication for exchange log-in
Select Exchange Tab and link Choice Privileges Account
Return to Exchange Tab to link your Radisson Rewards Americas account.
Choose Radisson Rewards Americas as the exchange program
Adjust the slider for desired points exchange
Select Exchange
Keep in mind that the 12 exchanges limit starts after the first exchange and resets after 365 days.
Bottom Line
Choice Hotels continues to expand its global footprint across new markets with the acquisition of the Radisson Hotels brands. The 2:1 transfer rate gives members access to benefits at either of the brand properties. The best value in transferring points comes from the brand travel partners to redeem for hotels, airlines, cruises, and more.