Marriott Homes & Villas 40,000 Bonus Points Offer End May 3rd
PointsCrowd is a community-supported platform. When you apply for a credit card, make an order, or otherwise interact with the advertisers through the links on this page we may earn an affiliate commission. This helps us maintain and develop the platform further at no cost to you.
It's the first of the month, and Marriott makes sure to be at the top of mind for all travelers as we enter the spring/summer travel season. It announced a special 72-hour promotion for 40,000 bonus Marriott Bonvoy Points, and the clock has already started! So, it's time to get your summer travel plans in order and book your trips to take advantage of the offer before time runs out.
Earn 40K Bonus Points When Booking Homes & Villas by Marriott Bonvoy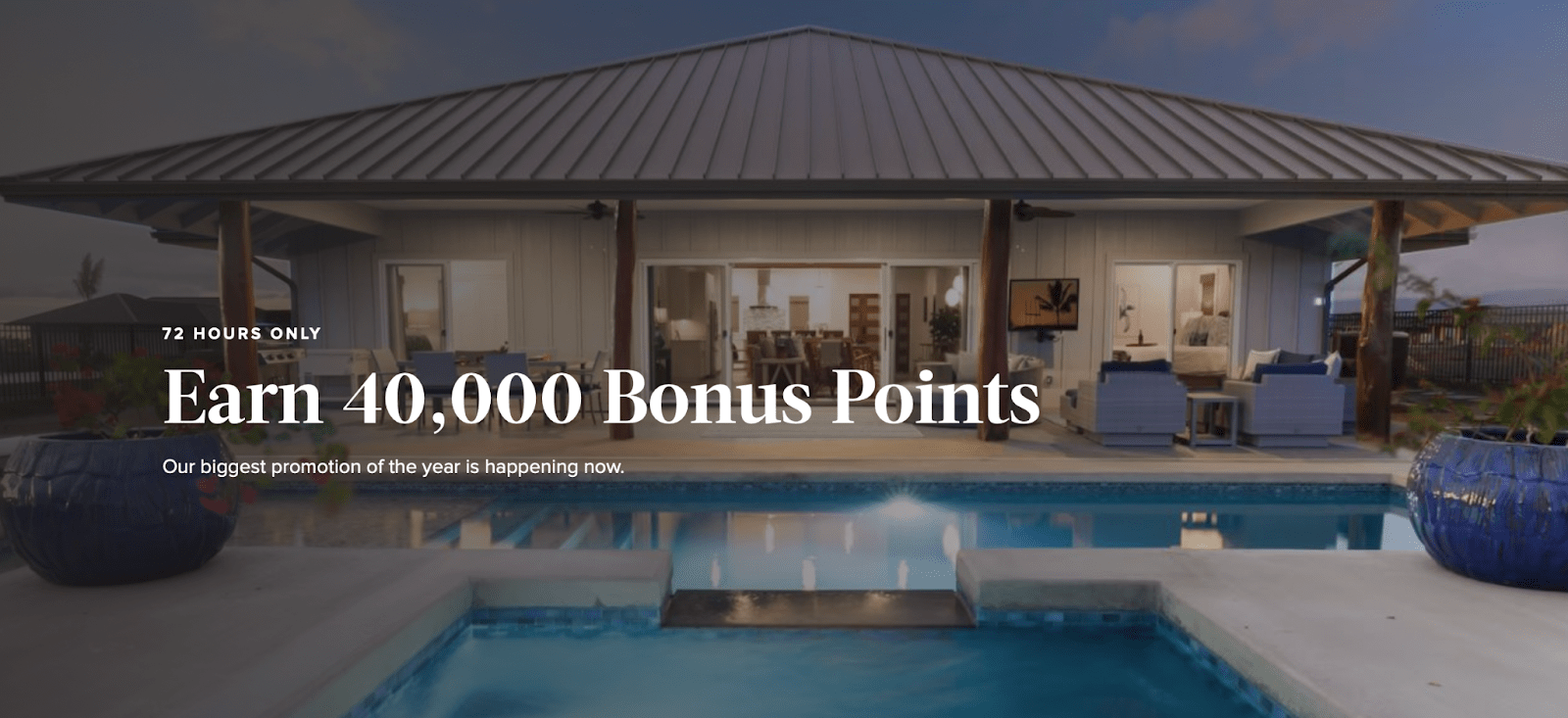 Marriott announces its 'biggest promotion of the year'—earn 40,000 bonus points when booking four or more nights with Homes & Villas by Marriott Bonvoy. So, it's time to get a head start on your summer travel plans and get a ton of extra Bonvoy points in the process.
Homes & Villas are Marriott's luxury home rental segment offering unique accommodation experiences in all corners of the world. It manages a collection of more than 100,000 vacation rentals so that its Bonvoy members can enjoy their membership perks, point earnings, and much more.
Travelers have lots of flexibility with Homes & Villas, offering accommodations in popular destinations across North and South America, Europe, Africa, Asia, and the Caribbean. So, no matter where your vacation plans take you this season, you can find accommodation options to take advantage of this 72-hour limited-time offer.
Here are a few details to earn the 40,000 bonus Bonvoy points offer:
Stays must be a minimum of four (4) consecutive nights between May 1-Sept 9, 2023, at the same property
Bookings must be made on Marriott.com to receive the promotion. Third-party reservations are excluded.
Offer excluded Marriott brand residence properties
Award stays and reservations made using points are excluded
In addition to the 40,000 bonus points, Bonvoy members also earn the standard 5x points per dollar spent on bookings (plus applicable Elite bonus points).
Check out full details of the Homes & Villas bonus points offer here.
Final Thoughts
This Marriott 72-Hour limited-time offer gives members an opportunity to earn lots of extra Bonvoy points for their summer travels. The 40,000 bonus combined with the Bonvoy points earned during booking means you may have enough points for an extra award stay in the future. You have until 11:59 PM on May 3, 2023, to book your trip.