Marriott Bonvoy Removes Caps With Award Night Stays Costing 150,000+ Bonvoy Points Per Night
PointsCrowd is a community-supported platform. When you apply for a credit card, make an order, or otherwise interact with the advertisers through the links on this page we may earn an affiliate commission. This helps us maintain and develop the platform further at no cost to you.
Marriott finally called its own bluff, showing us travelers that pricing limits for award stays are now off. Now, when you go to book a night at some of the brand's more luxurious properties around the world, you can expect astronomical prices that continue to push these sought-after properties out of reach for most Marriott Bonvoy members.
Award Night Stays Pricing Change
Remember the good ole days when Marriott Bonvoy used a categorized award chart for its properties? Well, those days have long ended back in March 2022 when it changed its pricing model to dynamic pricing. And now, as of 2023, those dynamic prices continue to rise!
The previous award night pricing was capped at 120,000 Marriott Bonvoy Points (excluding Ritz-Carlton Reserve properties). Now, Bonvoy members can see prices upwards of 150,000 Bonvoy Points and higher for its premium properties. Hotels that once fell into the Category 8 level are being affected by the price inflation, which changes depending on the time of year you book them.
Marriott's dynamic prices vary based on demand—similar to how the cash rates change. As a result, high-season and holiday travel are when you find higher-than-usual award point travel, while off-season dates still provide more favorable rates. And these peak season rates are typically periods when your Free Night award certificates can't be used to book them. So, if you're thinking about staying at some of the best Marriott properties around the world, start saving your Bonvoy points because it will surely cost you now and into the foreseeable future!
What to Expect with 2023 and Onwards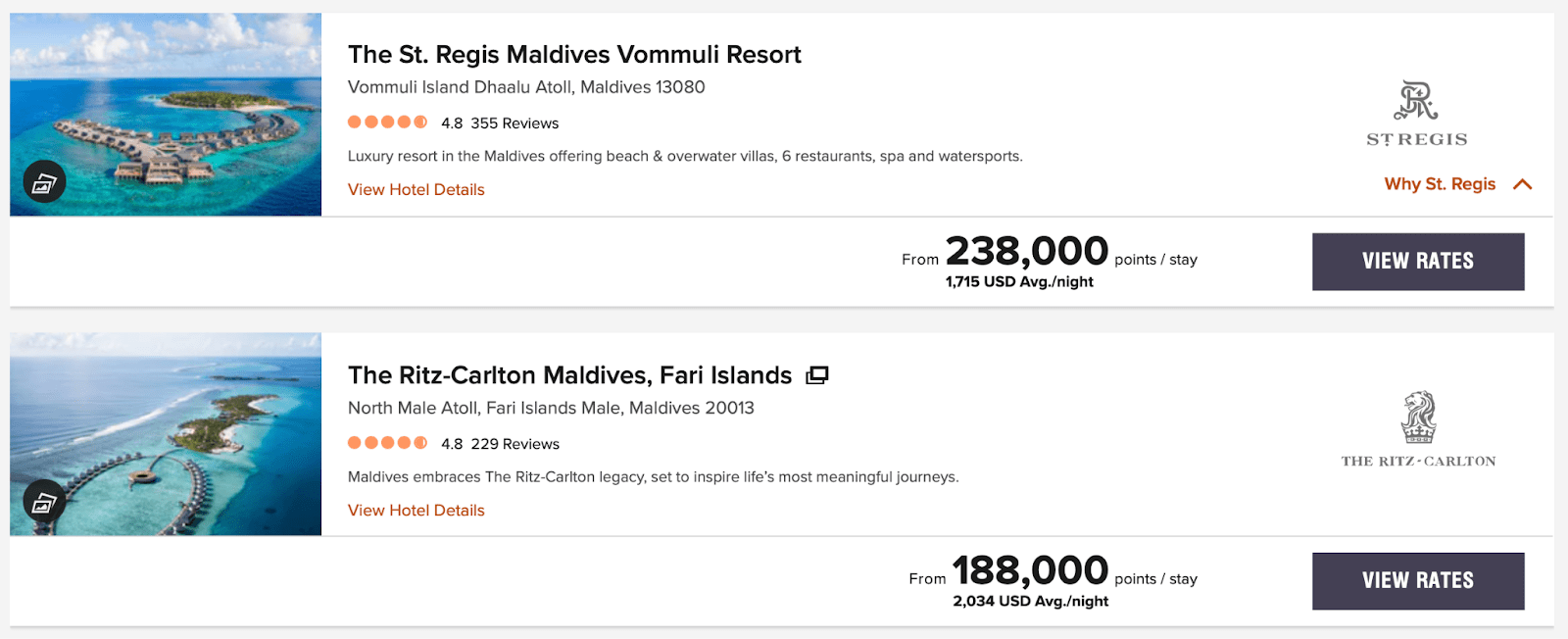 Staying with Marriott just got a lot more costly, even when using your Bonvoy points to book stays. Some notable properties where you can expect to see surge rates at 150,000 Bonvoy Points per night include:
St. Regis Maldives Vommuli Resort
Ritz-Carlton Maldives, Fari Islands
Dorado Beach, a Ritz-Carlton Reserve
If you're considering these properties, waiting until the off-season to book them is more cost-efficient. Sometimes, that may mean traveling during the rainy season—such as in the Maldives.
However, Marriott's award night price increases don't stop there. There are a few properties where you'll find rates even higher, as with the following:
Ritz-Carlton Reserve Properties
North Island, Seychelles
Some Marriott properties have endured only a modest increase from the original 120,000 points pricing. You can find rates for these properties around the 126,000 points per night level:
St. Regis New York
Al Maha Dubai
St. Regis Bora Bora
W Maldives
Book stays at these as soon as possible before they rise even higher.
Get More Marriott Bonvoy Points for Stays
Not all hope is lost if you've had your eye on a particular Marriott property that now may be out of reach with the new award night price increase. Marriott branded credit cards offer welcome bonuses and excellent points rewards that can help boost the Bonvoy points in your account towards earning a stay at one of its exclusive properties. Here are a few of the best offers:
| | | | |
| --- | --- | --- | --- |
| Credit Card | Annual Fee | Sign-up Bonus | Point Earnings |
| Marriott Bonvoy Boundless Credit Card | $95 | 3 Free Award Nights (up to 50k points each) | Earns up to 6x points on spending |
| Marriott Bonvoy Bold Credit Card | No annual fee | 30,000 Bonvoy Points | Earns up to 3x points on spending |
| Marriott Bonvoy Bevy American Express Card | $250 | 85,000 Bonvoy Points | Earns 6x points on spending |
| Marriott Bonvoy Brilliant American Express Card | $650 | 95,000 Bonvoy Points | Earns up to 6x points on spending |
In addition to welcome point bonuses, Bonvoy members can use their Free Night Awards (value up to 85,000 Bonvoy points) and top-off with additional points to book stays at its top-tier properties.
However, if you're like most Bonvoy members who've already reacted to the recent award stay increase, then the devaluing of Bonvoy Points doesn't make its top-tier hotels worth the hassle. Instead, consider some of these alternative trip ideas where you can easily have enough Marriott Bonvoy points with the welcome bonus alone to book your stay:
Act fast because who knows when Marriott's next point pricing change will come.
Final Thoughts
Marriott continues to make changes to its Marriott Bonvoy pricing structure, often unannounced and at the cost to its loyal members. While many award nights can still present better overall deals compared to nights costing thousands of dollars per night, its points have steadily declined since introducing the dynamic pricing.