Marriott Bonvoy Ends Points Advance Feature
PointsCrowd is a community-supported platform. When you apply for a credit card, make an order, or otherwise interact with the advertisers through the links on this page we may earn an affiliate commission. This helps us maintain and develop the platform further at no cost to you.
Marriott Bonvoy has announced that it will be discontinuing its Points Advance feature on March 28, 2023. This handy feature allowed Marriott Bonvoy members to book a hotel stay even if they didn't have the necessary points at the time of booking. With Points Advance, members could reserve a room and then earn the required points up until 14 days prior to check-in.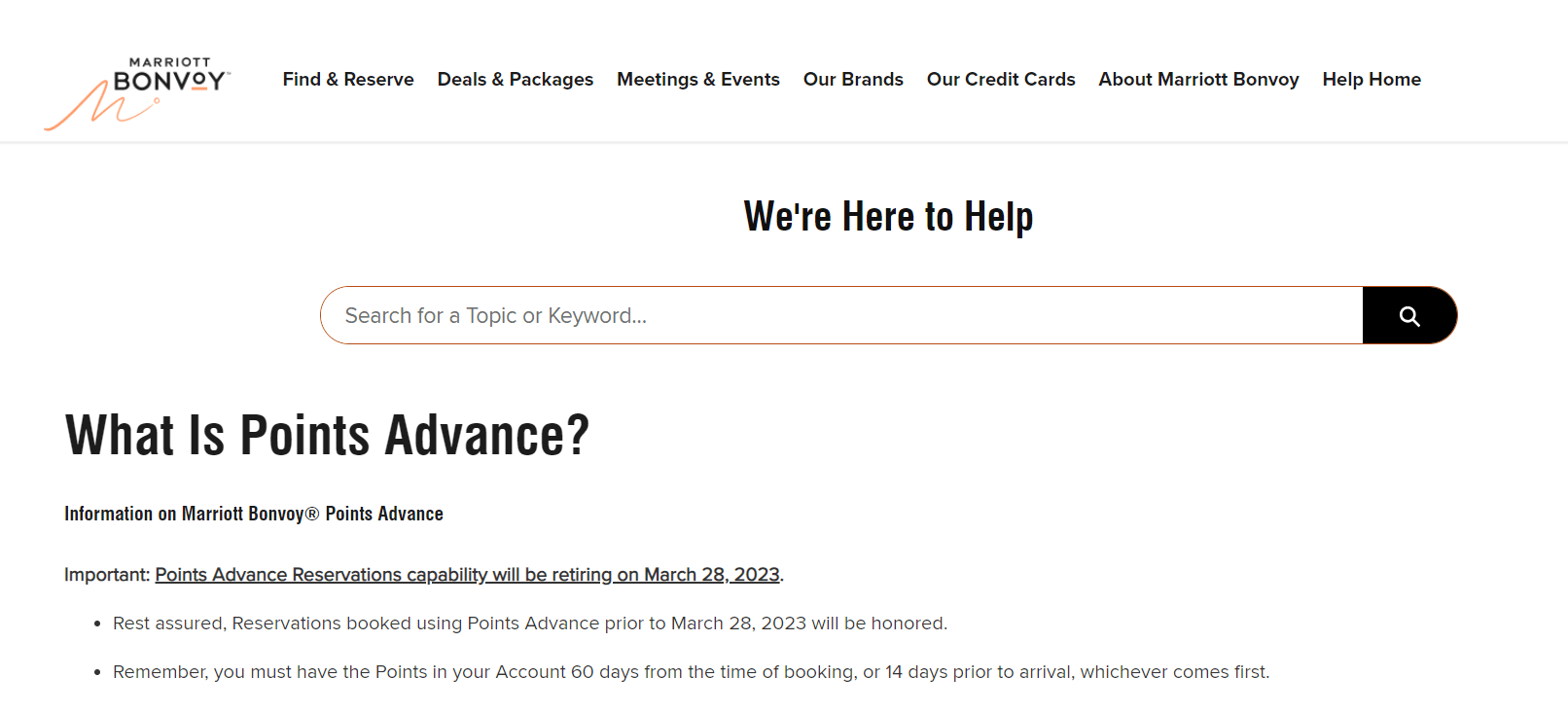 The Points Advance feature was a useful tool for Marriott Bonvoy members who may not have had enough points to book a desired hotel stay at the time of reservation. Members could book their desired hotel stay and then have the flexibility to earn the necessary points later. This made it easier for members to plan and book their travel without worrying about having enough points at the time of booking.
However, the feature had its drawbacks as well. If there were insufficient Marriott Bonvoy points in a member's account 14 days prior to check-in, the reservation would be cancelled. This left members without a room and potentially scrambling to find another place to stay. Additionally, some members abused the feature by booking stays they never intended to complete, leading to a strain on hotel inventory.
Marriott Bonvoy's decision to discontinue the Points Advance feature is likely due to the ongoing challenges the travel industry is facing as a result of the COVID-19 pandemic. Marriott has been forced to make a number of changes to its loyalty program in recent years, including changes to point values and earning rates, as well as the elimination of certain benefits.
The Points Advance feature was a handy tool before Marriott changed the terms and conditions in 2019, and the company's continued reduction of relative rewards has been a disappointment for many loyal members. However, Marriott has been expanding its portfolio with new brands. These cooler brands could help to attract new members and retain current ones, even in the absence of the Points Advance feature.
Marriott Bonvoy members who have the Marriott Bonvoy points in their account and are planning to book a hotel stay using the Points Advance feature have until March 27, 2023 to do so. After that date, the feature will no longer be available.
In conclusion, while the Points Advance feature was a useful tool for Marriott Bonvoy members, its discontinuation is not surprising given the ongoing challenges facing the travel industry. While some members may be disappointed by the decision, Marriott's continued expansion and addition of new brands could help to keep members engaged and loyal to the program.