IHG You Choose Promotion Summer 2023
PointsCrowd is a community-supported platform. When you apply for a credit card, make an order, or otherwise interact with the advertisers through the links on this page we may earn an affiliate commission. This helps us maintain and develop the platform further at no cost to you.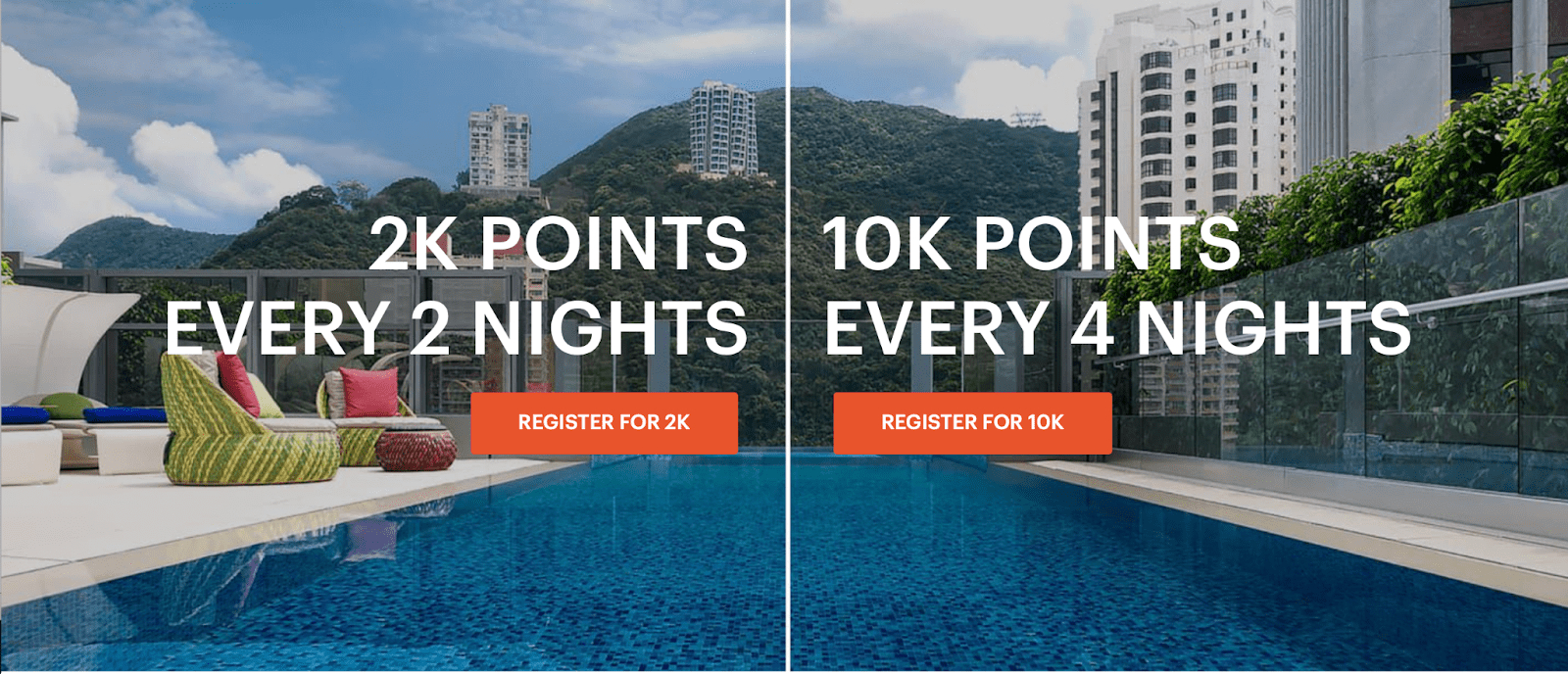 IHG One reward members can choose how they earn points this season with a new "you pick" promotion. It's giving away points every time you stay at IHG properties worldwide. However, it's up to you to decide how many points you'll get and how often:
Earn 2k points every two nights
Earn 10k points every four nights
At first glance, going for the higher points rewards seems obvious. But there are scenarios when the other is the better option.
The choice is yours and here are a few details to help your decision.
About the You choose Promotion
The You Choose promotion for 2K vs. 10K runs until Aug. 31, 2023. Registered members can earn unlimited points during the promotion. The best way to decide which is best for you is based on how many nights you expect to stay with IHG.
Choice 1: 2K points every 2 nights
Choice one for the promotion is earning 2,000 IHG points for every two qualifying nights with the brand. IHG recently ran the same promotion between Jan 25-April 14, so this latest release gives a chance to continue earning at the same rate.
Choice 2: 10K points every 4 nights
More ambitious travelers can opt for the more challenging yet more rewarding option. Members can earn 10,000 bonus points every time they stay four qualifying nights at IHG properties.
Members not only earn bonus points for their stays but also the base points and tier bonuses received for each booking. IHG rewards 10x points for every $1 spent with IHG hotels. However, tier members can get even more points when booking:
| | |
| --- | --- |
| Membership Tier | Point Bonus on spending |
| Club member | N/A |
| Silver Elite | 20% |
| Gold elite | 40% |
| Platinum Elite | 60% |
| Diamond Elite | 100% |
Want to top off your point bonuses with even more earnings? Make your hotel reservations using these IHG credit cards:
Read more about the IHG travel credit cards here.
What is a qualifying night?
It's essential to ensure your stay qualifies for the promotion. Only qualifying nights are eligible towards your total. Here are a few things to keep in mind to make sure your reservation counts!
Member must be registered for one of the two You Choose options
Stay must be within the promotional period until Aug. 31.
Reservation must be a qualifying rate—at least $30 per night
Reward Nights or booking with Points & Cash are not eligible for the promotion
Only reservations made directly with ihg.com are eligible
Which Should You Pick
The You Choose promotion is for only one of the offers. If you register for either the 2K or 10K offer, you will not be eligible to change or earn the other offer. But before rushing to register for the 10K bonus points offer, consider that the 2K points offer may be better suitable for you.
Members can earn unlimited bonus points during the promotional period but must meet the qualifying nights stay requirements. The 2K points offer is best if you expect to stay 2-3 nights with IHG during the period. You will only qualify for the 2K point bonus once, but alternatively, you wouldn't be eligible for any bonus if you selected the 10K for four nights offer.
If you plan to stay four or more nights with IHG, then the 10K offer is the best. Choosing the 2K offer and staying four nights will only earn 4K points, so the 10K offer gives 2.5x the amount of bonus points.
Most travelers will likely fall into the category for the 2K points every two nights offer. It's easy to reach after a weekend stay!
How to Register for the You Choose Promotion?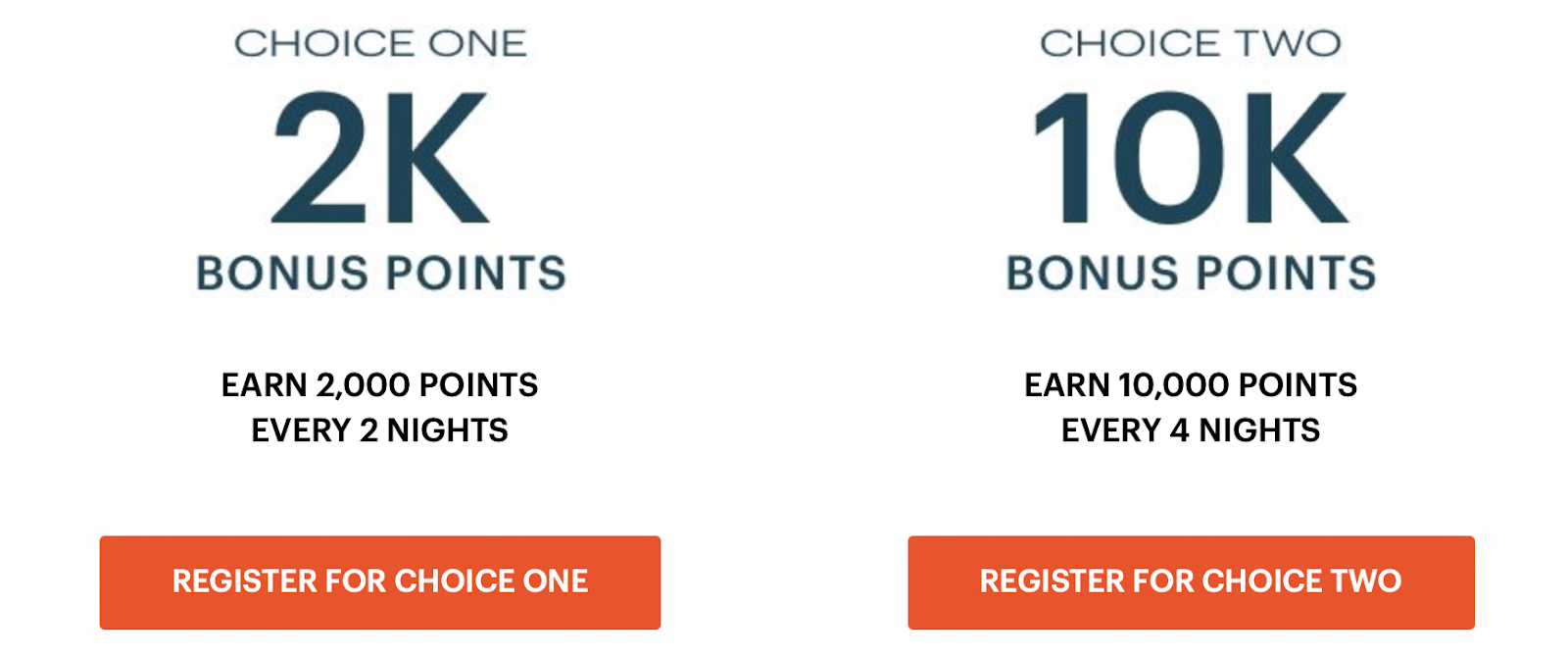 Have you decided on which offer you'll choose? Before you begin earning qualifying nights towards the bonus, make sure to register for your promotion choice. Here are the steps:
Visit the promotion offer page here
Select your offer preference by clicking 'Register for 2K' or 'Register for 10K'
Enter your email address or IHG Member number to complete the registration
Remember that once you register for one, you cannot register for the other.
Bottom Line
The IHG You Choose promotion gives travelers flexibility in deciding how they will travel and earn with IHG for the summer season. Either promotion is great for adding extra IHG rewards points to your account. Just be sure to select your choice based on your travel habits so you won't miss out on any bonus points.