Get Cashback on Your Next Trip with WayAway
PointsCrowd is a community-supported platform. When you apply for a credit card, make an order, or otherwise interact with the advertisers through the links on this page we may earn an affiliate commission. This helps us maintain and develop the platform further at no cost to you.
Travel aggregator sites with cheap flights are nothing new. But while most of these popular platforms pocket the savings for themselves, what if it was put into your pockets instead in the form of cashback? Well, WayAway is the travel solution you've been looking for! This innovative travel aggregator site was made to put cash back into your travel budget. Keep your travel expenses low with cheap flights and cashback offers available for every aspect of your trip.
See why WayAway is taking off for travelers just like you all around the world.
What is WayAway?
Wayaway is a flight and hotel booking aggregator site that works similarly to other platforms like Booking.com and Expedia. However, its advantage over these other booking sites is its cashback offers for travelers who book through it. The combination of providing cheap flight deals and up to 10% cashback makes it an excellent alternative when planning your next trip. In addition to booking, it offers several other features to make it the ultimate travel planning tool.
How it works
Do you have an upcoming trip? Start your journey at WayAway (also available on mobile via the WayAway iOS and Android apps).
Search for your flights, and its transparent results page immediately shows the cashback rewards offered for your flights. It provides filters to find the perfect flight for your trip. For example, travelers can toggle filters to find flights based on the following:
Departure and arrival times
Number of layovers and layover duration
Airlines
Flights with baggage allowance
Prices to nearby airports
This travel aggregator includes flights for all major airlines in the US, international airlines, and even budget airlines to ensure you're getting the best deals!
After finding your preferred flight, it also displays cashback options when completing booking on various trusted checkout sites. Having this information readily available during the flight search process makes it easier to plan your trip and know exactly what to expect when you reach the checkout page—and no surprise price changes like other sites.
WayAway Plus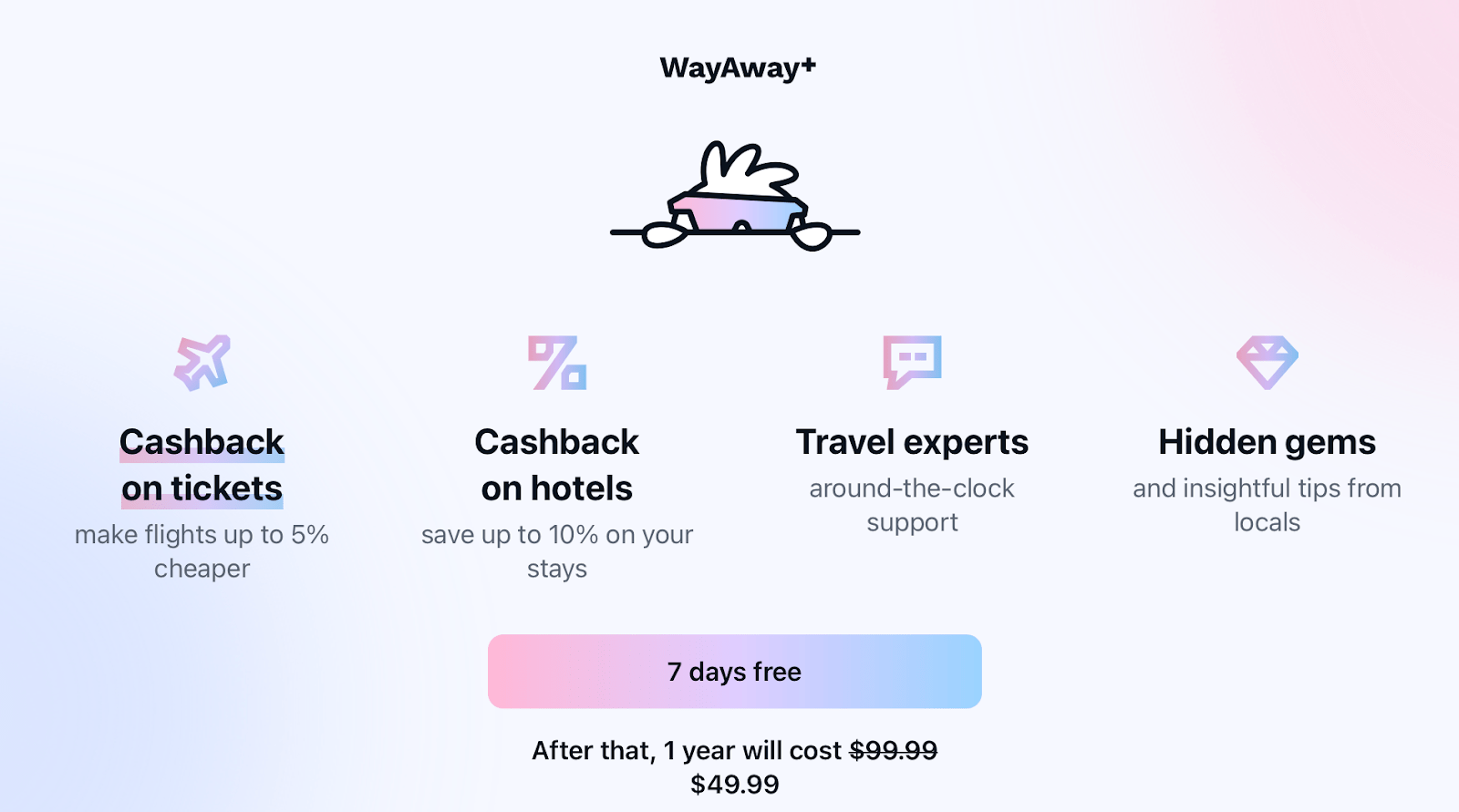 WayAway is free to use for all travelers. However, the best rewards come with subscribing to WayAway Plus. The main feature of this upgraded service is the cashback offers, which makes the service pay for itself! Benefits include:
Up to 5% cashback on flights bookings
Up to 10% on hotel reservations
Access to 24/7 traveler expert support
Discover hidden gems with locals' insight
Travelers also get access to deals through travel partners for even more perks and savings on their trip:
Up to 20% savings on Booking.com hotel reservations
Up to 6% on reservations made with Hostelworld
5% cashback on rentals with Rentalcars
6% cashback on travel experiences with Viator
8% cashback when booking tours with GetYourGuide
16% cashback on eSIM data service with Airalo
And More!
The WayAway Plus service offers a 7-day FREE trial and the annual service costs just $49.99 for your first year.
Getting Cashback With WayAway Plus
There are no tricks or gimmicks with the cashback offers on WayAway Plus—what you see is what you get! Its popularity comes thanks to the ease of having access to your cashback rewards within a few days after booking. Payouts are directly through Paypal and available without any minimums. So, whether you book a trip with a $10 cashback offer or multiple trips with cashback totaling a few hundred dollars (which isn't uncommon), you can simply log into your Paypal and see the balance added to your account. It's instant savings that keep travel within your budget.
Get Travel Inspiration
WayAway is a handy resource at every stage of your trip. Whether you're ready to book a flight and hotel or simply thinking about your next bucket list destination, the site will help you plan your next big adventure.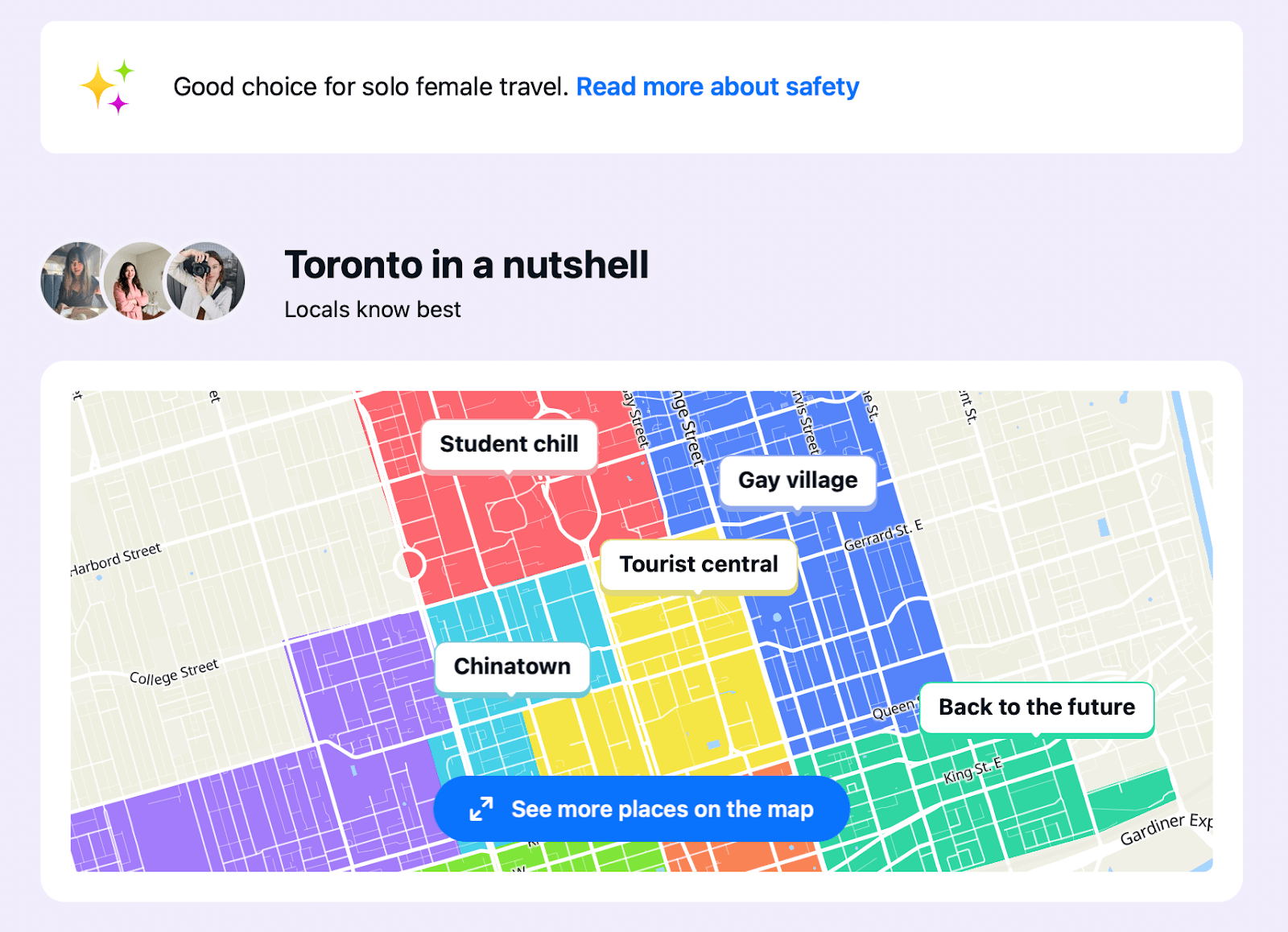 Explore trending travel destinations, hidden gems around the world, places where nature will take your breath away, and even places ideal for solo or group trips all in one place. Designated city pages showcase interactive maps to get to know your way around town before you arrive. See where the main nightlife spots are, the most Instagrammable locations, the best dining spots, must-see attractions, and more. It's like having your own personal travel assistant right at your fingertips.
Travelers subscribed to WayAway Plus can access even more recommendations for their trip.
There's now a way around inflated travel prices, and WayAway is a travel booking site paying you to travel! Cashback on travel means instant discounts on flights, hotels, tours, rentals, and activities when you reach your destination. From travel inspiration to booking to filling your itinerary with memorable activities, it's the perfect way to make your next trip rewarding in more ways than one.