Best islands to visit in Thailand
PointsCrowd is a community-supported platform. When you apply for a credit card, make an order, or otherwise interact with the advertisers through the links on this page we may earn an affiliate commission. This helps us maintain and develop the platform further at no cost to you.
Thailand is a fascinating country with a plethora of attractions to explore. One of the most sought-after destinations in this Southeast Asian nation is its beautiful islands. The best islands to visit in Thailand offer something for everyone, including pristine beaches, crystal-clear waters, breathtaking scenery, and a host of fun activities. From Koh Samui to Phuket, Ko Phi Phi to Koh Tao, these famous islands are ideal for a dreamy Thailand island vacation. Not only do these islands offer an escape from the bustling city life, but they are also unique places to stay in Thai. So whether you're a beach bum or an adventure seeker, there are plenty of reasons to go to in Thailand and start planning your next island.
Map of Thai islands
Phuket Island
Phuket, Thailand is a world-renowned tourist destination that draws in millions of visitors every year. Located on the west coast of Thailand, Phuket is surrounded by stunning beaches and clear waters ideal for swimming, sunbathing, and water activities.
What is the closest airport to Phuket?
The closest airport to Phuket is the Phuket International Airport, located in the north of the island. It is the second busiest airport in Thailand and serves both domestic and international flights. Tourists who are looking to explore this magnificent island will find that the Phuket International Airport is the most convenient way to travel to and from Phuket.
One of the main advantages of flying into Phuket International Airport is that it is just a short distance away from the city. It takes around 45 minutes to get from the airport to most major tourist destinations on the island, making it extremely convenient for visitors who do not want to waste any precious time commuting.
Where to Stay in Phuket: Top Accommodation Options for Tourists
Phuket, known for its stunning beaches and vibrant nightlife, is a popular destination among tourists seeking a tropical paradise getaway. With a range of accommodation options available, from luxurious resorts to cozy hotels and private villas, finding the perfect place to stay in Phuket can enhance your overall experience. Here are some top choices for accommodations in Phuket, including Phuket villas, resorts, and hotels:
Top Places to Visit and Popular Tours in Phuket
Phuket, Thailand's largest island, offers a wealth of attractions and activities that cater to every traveler's taste. From stunning beaches and thrilling adventures to cultural landmarks and natural wonders, Phuket has it all. Here are some must-visit places and popular tours that will ensure an unforgettable experience on this tropical paradise.
Best Beaches in Phuket
Phuket is renowned for its pristine beaches with crystal-clear waters and picturesque landscapes. Some of the top beaches include Patong Beach, Karon Beach, Kata Beach, Maya Beach and Nai Harn Beach. Each offers a unique atmosphere, from vibrant and lively to serene and tranquil, allowing visitors to find the perfect spot to relax and soak up the sun.
Visit to an elephant sanctuary in Phuket
Join the "A Morning with the Elephants" tour at Phuket Elephant Sanctuary for an unforgettable and ethical elephant experience in Phuket.
Island Hopping in Phuket
Embarking on an island-hopping tour is a must-do when in Phuket. Explore the breathtaking beauty of the Andaman Sea by hopping on a boat and visiting nearby islands. Discover hidden beaches, swim in emerald waters, and snorkel or dive to witness the vibrant marine life. Popular islands to visit include Phi Phi Islands, Similan Islands, and Racha Islands.
Coral Island Phuket
Coral Island, also known as Koh Hae, is a paradise for water sports enthusiasts. Take a day trip to this idyllic island and enjoy activities like snorkeling, scuba diving, jet skiing, and parasailing. Immerse yourself in the vibrant underwater world, with coral reefs teeming with colorful fish and marine creatures. The "Coral Island Snorkeling Tour by Speedboat" (starts at $45 per person) offers a fantastic opportunity to escape the crowds and immerse yourself in the natural beauty of Phuket's underwater world. Whether you're a snorkeling enthusiast or a beginner, this tour caters to all skill levels and ensures a memorable experience for everyone.
Carnival Magic Phuket
Experience the vibrant and festive atmosphere of Carnival Magic in Phuket. This lively event brings together locals and tourists alike for a celebration filled with music, dance, food, and entertainment.
Check out the various Carnival Magic experiences and activities available during your visit.
The ticket prices for Carnival Magic in Phuket can vary depending on the specific activities and experiences you choose to participate in. Generally, ticket prices can range from $20 to $100, depending on the type of event, duration, and any additional inclusions.
Please note that Carnival Magic in Phuket may have specific dates and durations, so it's recommended to check the available tours and activities to find the ones that best suit your preferences and schedule.
The Nature Phuket
Escape the bustling tourist areas and immerse yourself in the natural beauty of Phuket. Explore the lush rainforests, visit national parks like Sirinat National Park or Khao Phra Thaeo Wildlife Sanctuary (Trek through the lush jungles), and take scenic walks to discover hidden waterfalls. Connect with nature and enjoy the tranquility that Phuket has to offer.
Phuket Water Park
Beat the heat and have a splashing good time at a Phuket water park. Slide down thrilling water slides, float along lazy rivers, and relax in pools while enjoying the tropical surroundings. Popular water parks in Phuket include Splash Jungle Water Park and Blue Tree Phuket. The price for the Phuket Andamanda Water Park admission ticket is $35 per person. 
Embark on a thrilling adventure to James Bond Island, made famous by the iconic movie "The Man with the Golden Gun." This tour takes you to the stunning Phang Nga Bay, where you'll explore the breathtaking landscapes and limestone karsts that have captivated travelers from around the world.
Phi Phi Island
Where do you get the ferry to Phi Phi island?
To reach Phi Phi Island, you can take a ferry from various departure points in Thailand. The most common departure points are Phuket, Krabi, and Ao Nang. Here are the main ferry options:
Phuket to Phi Phi Island: Ferries depart from Rassada Pier and Ao Por Pier in Phuket. The journey takes approximately 1.5 to 2 hours.
Krabi to Phi Phi Island: Ferries depart from Klong Jilad Pier in Krabi Town. The journey takes about 1.5 to 2 hours.
It's important to check the ferry schedules in advance as they may vary depending on the season and weather conditions. You can easily book ferry tickets online or at the respective piers. Make sure to arrive at the pier with enough time before departure.
Where to Stay in Phi Phi Island: Exceptional Accommodation Options
When it comes to finding the perfect place to stay in Phi Phi Island, there are several outstanding options that cater to different preferences and budgets. Here are a few notable hotels that offer unforgettable experiences on the island:
The Best Things to Do in Phi Phi Island: Unforgettable Experiences Await
If you are planning a trip to Phi Phi Island, here are some of the best things to do on Phi Phi Island, as well as helpful tips to help you get the most out of your experience.
Embark on an adventure to Monkey Beach, a picturesque stretch of white sand surrounded by lush greenery. Here, you can encounter playful monkeys in their natural habitat. Remember to maintain a safe distance and avoid feeding or touching them to ensure their well-being.
Explore the picturesque Maya Bay (Prices for this tour start at $75), famous for its crystal-clear waters and beautiful beach. Snorkel in vibrant coral reefs, visit Monkey Beach to encounter playful monkeys, and indulge in a delicious buffet lunch. The tour also includes stops at Bamboo Island and Phi Phi Don. 
Experience the thrill of a speedboat journey from Phuket to Phi Phi Island ($78). Discover the iconic Maya Bay, explore the Viking Cave known for its ancient wall paintings, and snorkel in the crystal-clear waters of Pileh Lagoon and Loh Samah Bay. Enjoy a delicious lunch on Phi Phi Don and have free time to relax on the pristine beaches.
Hike up to Phi Phi Viewpoint 3 for a breathtaking panoramic vista of the island's turquoise waters and dramatic cliffs. The hike can be challenging, but the reward of witnessing Phi Phi's stunning natural beauty from above is worth the effort. 
Don't miss the vibrant nightlife at Tonsai Village, where you can enjoy beachfront bars and lively parties.
Koh Lanta Island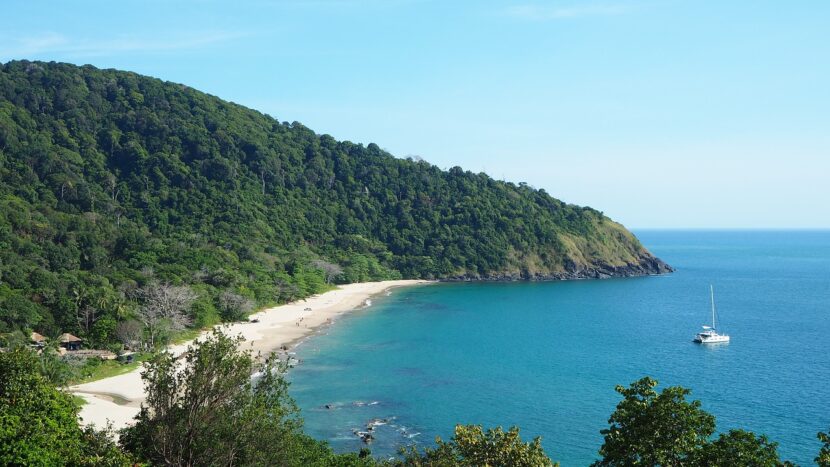 The Closest Airport to Koh Lanta: Convenient Access to Paradise
The most convenient airport to Koh Lanta is Krabi International Airport (KBV). Situated on the mainland, Krabi Airport serves as the primary gateway for travelers heading to the picturesque islands of the Andaman Sea, including Koh Lanta.
From Krabi Airport, there are several transportation options available to reach Koh Lanta:
Private Transfer
Shared Minivan or Taxi
Public Transportation: For budget-conscious travelers, public transportation is an option to consider. From Krabi Airport, you can take a local taxi or tuk-tuk to Krabi Bus Terminal or Krabi Town. From there, you can catch a public bus to the pier in Krabi, where ferries depart for Koh Lanta. This option requires more time and patience, as you'll need to coordinate bus and ferry schedules.
Rental Car
Where to Stay in Koh Lanta: Beachfront Bliss and Tropical Escapes
If you're planning a visit to the breathtaking island of Koh Lanta in Thailand, you'll be delighted to discover a range of accommodation options that cater to different preferences and budgets. Here are a few noteworthy hotels that provide a glimpse of the enchanting experiences Koh Lanta has to offer:
Best Things to Do in Koh Lanta: Exploring Nature, Culture, and Serene Beaches
Koh Lanta, a charming island in Thailand, offers a plethora of activities and attractions that cater to diverse interests. Whether you're a nature enthusiast, a culture lover, or a beach bum, Koh Lanta has something special in store for you. Here are a few highlights and tips to make the most of your visit:
To further enhance your experience in Koh Lanta, you can explore the provided link to find tours or tickets for various activities and attractions.
Koh Samui Island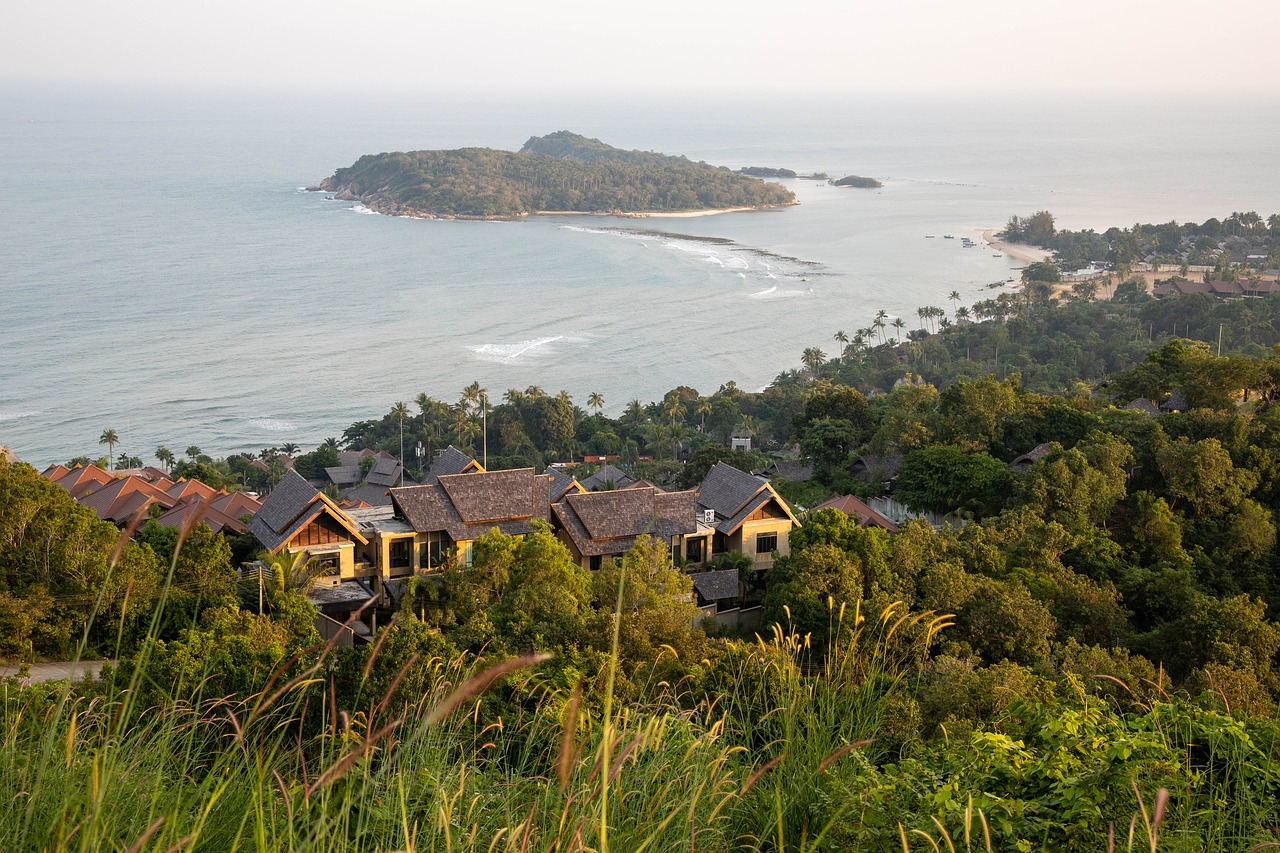 What is the closest airport to Koh Samui?
The nearest airport to Samui is Samui International Airport (USM). It is the main airport serving the island of Koh Samui, offering both domestic and international flights and is located on the northeast coast of the island. The airport is easily accessible for tourists from various destinations.
Samui International Airport is well-connected to major cities in Thailand, including Bangkok, Phuket, and Chiang Mai, with frequent domestic flights operated by various airlines. Additionally, there are international flights from destinations such as Singapore, Hong Kong, Kuala Lumpur, and Shanghai, among others.
Where to stay in Koh Samui?
Here are some popular hotels that will ensure a comfortable and unforgettable stay in Koh Samui.Here are some hotels in Koh Samui with a brief overview and prices (from lowest) based on the information from the provided link:
Kimpton Kitalay Samui: This stylish beachfront hotel offers modern and spacious rooms with beautiful ocean views. Guests can enjoy amenities such as a swimming pool, fitness center, and on-site dining options. The price starts from $142 per night.
The Ritz-Carlton Koh Samui: Known for its luxury and elegance, this 5-star resort features luxurious accommodations with private pools or balconies overlooking the Gulf of Thailand. Guests can indulge in world-class dining, rejuvenate at the spa, or relax by the infinity pool. The price starts from $92 per night.
Hyatt Regency Koh Samui: Nestled on a hillside overlooking the stunning coastline, this resort offers stylish rooms with modern amenities. Guests can enjoy multiple swimming pools, a fitness center, spa, and several dining options. The price starts from $61 per night.
Intercontinental Koh Samui Resort, An IHG Hotel: Set on a secluded stretch of beach, this luxurious resort boasts spacious villas with private infinity pools and panoramic ocean views. Guests can unwind at the spa, savor delectable cuisine, or enjoy water sports activities. The price starts from $147 per night.
Hacienda Fisherman's Village Koh Samui: Located in the heart of Fisherman's Village, this boutique hotel offers charming rooms with traditional Thai decor. Guests can explore the vibrant local markets and enjoy the lively atmosphere. The price starts from $24 per night.
Renaissance Koh Samui Resort & Spa: Situated on a tranquil beachfront, this resort features elegant rooms with modern amenities and private balconies. Guests can relax by the pool, rejuvenate at the spa, or enjoy delicious dining options. The price starts from $49 per night.
Samui here.These hotels provide a range of options for travelers seeking different styles, amenities, and price points, ensuring a comfortable and memorable stay in Koh Samui.
Find more accommodation options in Koh Samui here.
Best thing to do in Koh Samui
Koh Samui, with its stunning beaches and lush landscapes, offers a plethora of exciting activities for tourists. Here are some of the best things to do in Koh Samui, along with useful tips for visitors:
These attractions and tours provide unique experiences that showcase the natural beauty, cultural heritage, and wildlife of Koh Samui.
Koh Tao Island
Where do you get the ferry to Ko Tao Island?
To reach the stunning island of Koh Tao in Thailand, there are several options available for tourists:
Chumphon Ferry to Koh Tao. The ferry ride usually takes around 1.5 to 2.5 hours.
From Phuket to Koh Tao: If you're in Phuket and wish to travel to Koh Tao, the most common route is to take a combination of a ferry and bus or train. Firstly, you would need to travel from Phuket to Chumphon by bus or train, which takes approximately 6-8 hours. From Chumphon, you can then catch a ferry to Koh Tao. Alternatively, you can opt for a direct flight from Phuket to Koh Samui and then take a ferry from Koh Samui to Koh Tao.
There are multiple ferry services operating between Koh Samui and Koh Tao, and the journey takes around 1.5 to 2.5 hours.
It's important to note that ferry schedules may vary depending on the season and weather conditions.
Where to stay in Ko Tao?
When it comes to finding a place to stay in Koh Tao, there are several excellent options that cater to different preferences and budgets. Here are three hotels that offer a memorable experience on the island:
View Point Resort ($82/night). Located on a hilltop overlooking the stunning Sai Daeng Beach, View Point Resort offers breathtaking panoramic views of the ocean and lush surroundings. The resort features comfortable and well-appointed rooms with modern amenities. Guests can relax by the infinity pool, indulge in delicious cuisine at the on-site restaurant, and enjoy the peaceful ambiance of the resort.
Koh Tao Simple Life Resort ($42/night). Nestled amidst tropical greenery and just a short walk from Sairee Beach, Koh Tao Simple Life Resort provides a tranquil and cozy atmosphere. The resort offers a range of accommodation options, from cozy bungalows to spacious rooms, ensuring a comfortable stay for all guests. The on-site restaurant serves a variety of Thai and international dishes, and the resort also offers diving courses for those looking to explore the underwater wonders of Koh Tao.
Ocean View Resort Koh Tao ($14/night). Situated on the western side of the island, Ocean View Resort Koh Tao offers stunning views of the crystal-clear waters and beautiful sunsets. The resort provides charming bungalows surrounded by lush gardens, creating a serene atmosphere for relaxation. Guests can enjoy direct beach access, unwind by the swimming pool, and savor delicious meals at the beachfront restaurant.
Best thing to do in Ko Tao
When it comes to things to do in Koh Tao, this captivating island offers a wide array of activities and attractions that cater to all kinds of travelers. Here are some of the best experiences and tips that will enhance your visit to Koh Tao:
Bottom line
From the vibrant nightlife of Phuket to the tranquil beauty of Koh Phi Phi, each island offers a unique experience. Whether you're seeking adventure, relaxation, or cultural immersion, Thailand's islands have something for everyone.
Have you visited any of these islands? Or do you have other favorites to recommend? Share your thoughts and experiences in the comments below! Let's inspire and help each other in creating unforgettable island adventures in Thailand.